La Casa del Camino, where Spanish-Style meets California Surf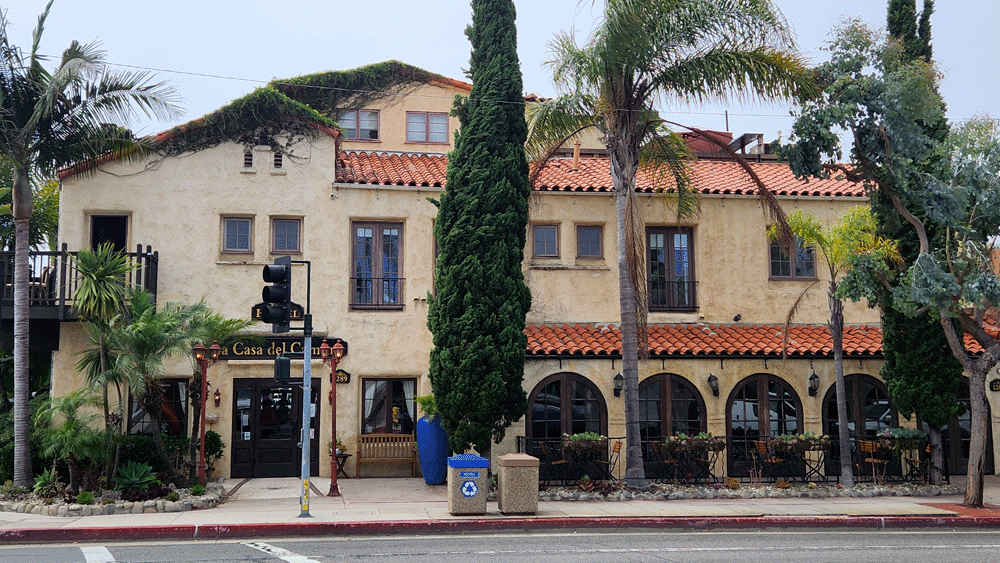 The beautiful historic La Casa del Camino hotel is located in the heart of Laguna Beach with plenty of restaurants and shops nearby. Striking colorful rooms with beautiful vintage touches to make you feel welcome and guarantee a unique experience.
Have lunch or dinner at the Rooftop Lounge which has a great menu for everybody's taste with a beautiful panoramic view overlooking the Pacific Ocean and to watch the sunset for a romantic relaxing evening.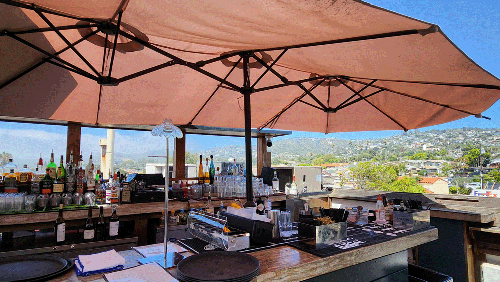 Enjoy the daily happy hour to top of the day after swimming or surfing at the beautiful beaches within walking distance. Breakfast is served daily, with specialty juices to cleanse and energize your body. Wi-Fi and parking are also included in the daily resort fee. Complimentary beach towels, chairs and umbrellas are available on the first come basis, first serve basis.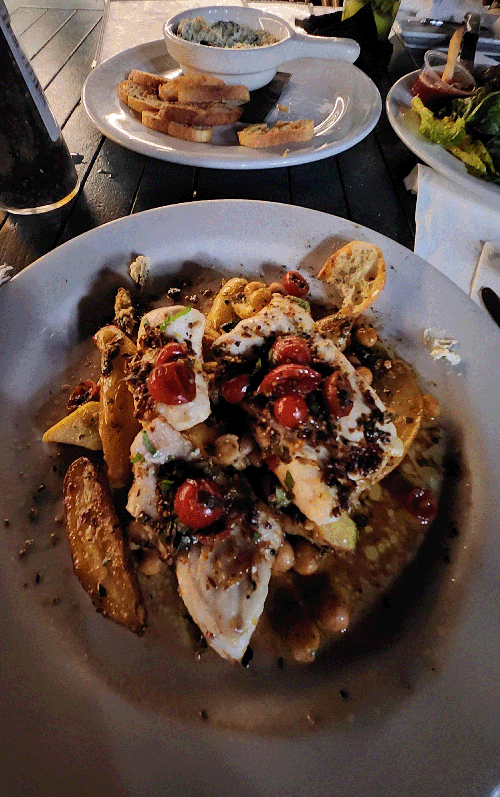 The guestrooms at La Casa del Camino hotel range in design. Guests have the options of staying in the Spanish-style rooms, Casa Surf Rooms, or La Casita. These rooms all display the hotel's character and come with a courtyard, village, or partial ocean views.
Casa surf rooms are decorated with hand-painted surfboards, murals on the walls, vibrant colors, and unique accents. In fact, no two surf rooms are the same. They all range in design, décor, and Cali surf vibes.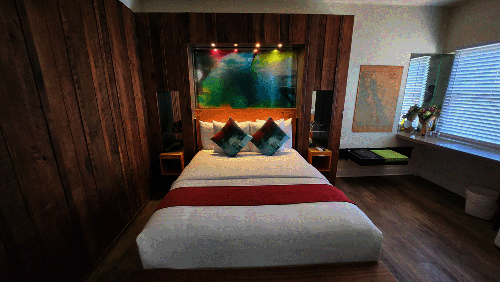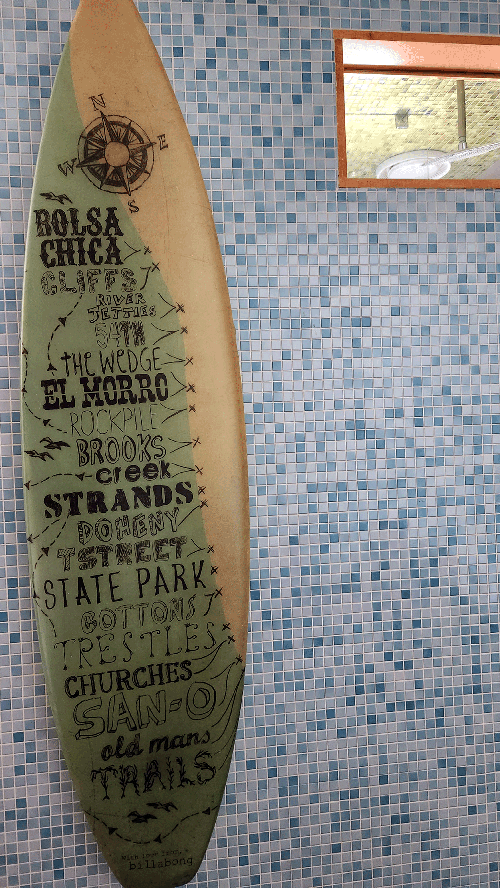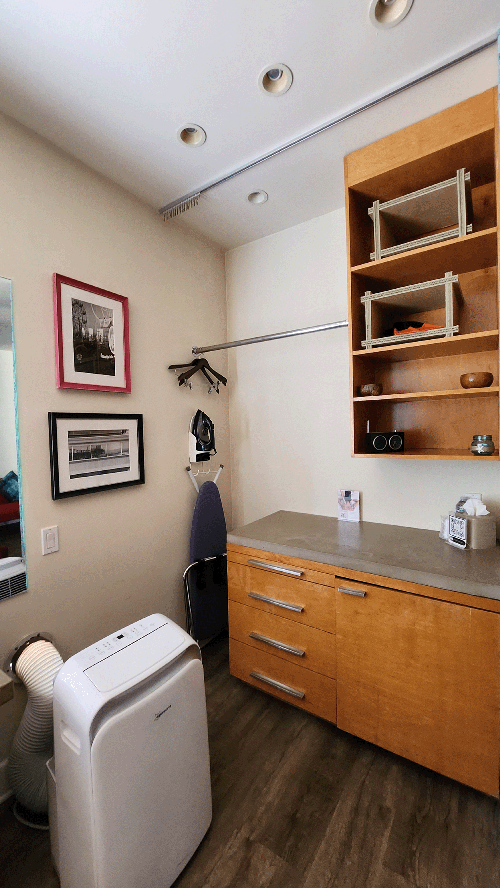 The two restaurants on-site at La Casa del Camino include Comedor and The Rooftop. Both are open daily and provide happy hour specials for guests.
La Casa del Camino is also located just steps away from the sandy ocean shore. At the beach, guests can swim, surf, or take an evening stroll by the water.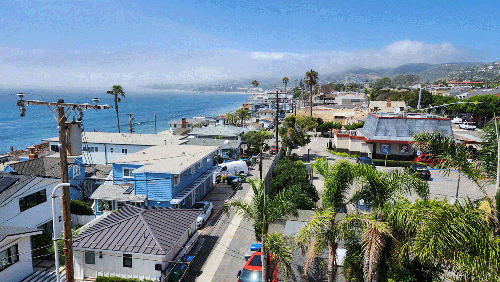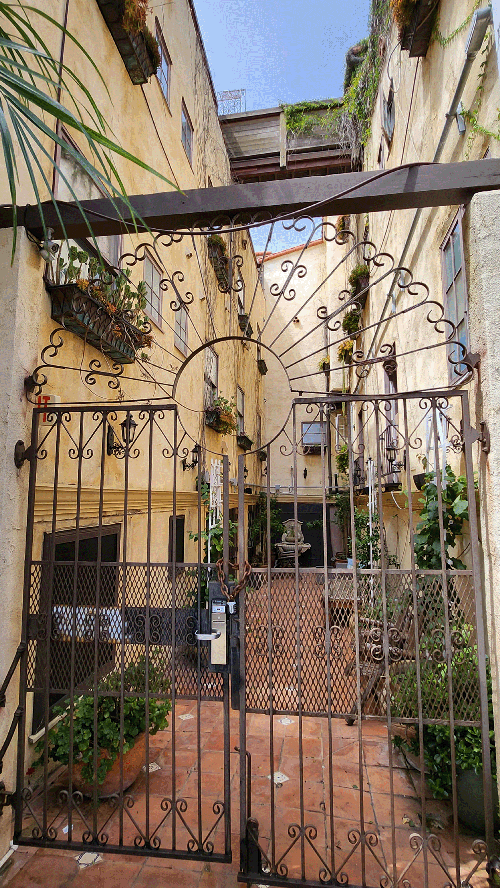 La Casa del Camino has been a Laguna Beach landmark since it first opened its doors in 1929, and its rooftop bar is so popular it can be tough to make a reservation. The lobby bar is very lively and features live music and a cozy fireplace to relax and hang out.
La Casa del Camino is also a Pet Friendly Hotel.
In-Room Amenities include:
Beautiful Hand-Carved Furnishings
Flat-Screen TV
In-Room Desk
Portable Air Conditioner
Wi-Fi
Mini-Fridge
In-Room Safe
Convenience USB Hubs
High Quality Terry
Bath Amenities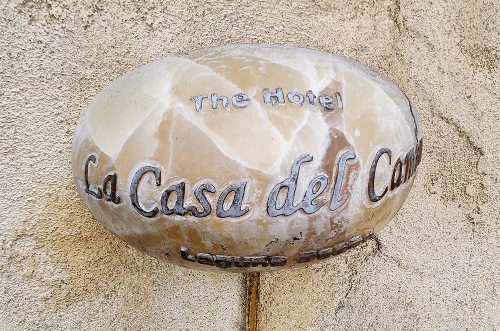 La Casa Del Camino is located at 289 S. Coast Highway,
Laguna Beach, CA 92651
Reservations: (949) 497-6029
Phone: (949) 497-6029
Email: [email protected]
Bearizona Wildlife Park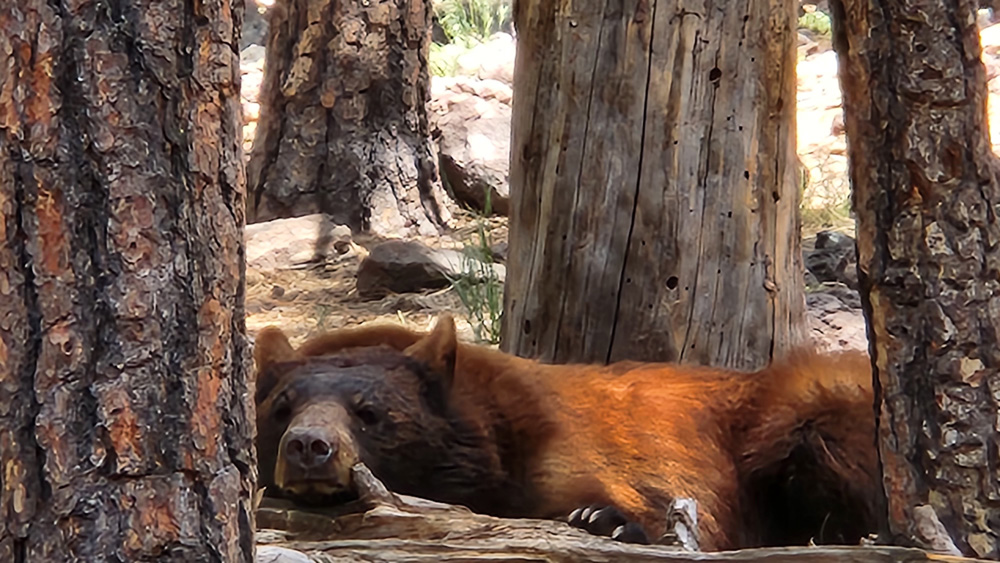 Bearizona is a Wildlife Park featuring a drive -through area as well as a walk-through area. View animals in their natural habitats during your drive. Check out more animals on the walk-through exhibit. There are several animal shows throughout the day from Backstage Grizzly Training, BZ Wild Show, Otter Feeding, Jaguar Training, BZ Wild Training, and Grizzly Chat.
The Park has about 30 + different animals living there from White Bison, Rocky Mountain Goats, Rocky Mountain Elks, Reindeer, Red Fox, Raccoons, Northern Leopard Frogs, North American River Otter, North American Porcupine, Mule Deer, Miniature Donkey, Juniper Black Bear, Javelina, Jaguar, Bronze Turkey, Burmese Python, Coues Deer, Beaver, Bighorn Sheep, Bobcat, American Bison, American Burro, Artic Wolf, American Badger, Alaskan Tundra Wolf, Adult Black Bear, and of course the Grizzly Bear, just to name a few.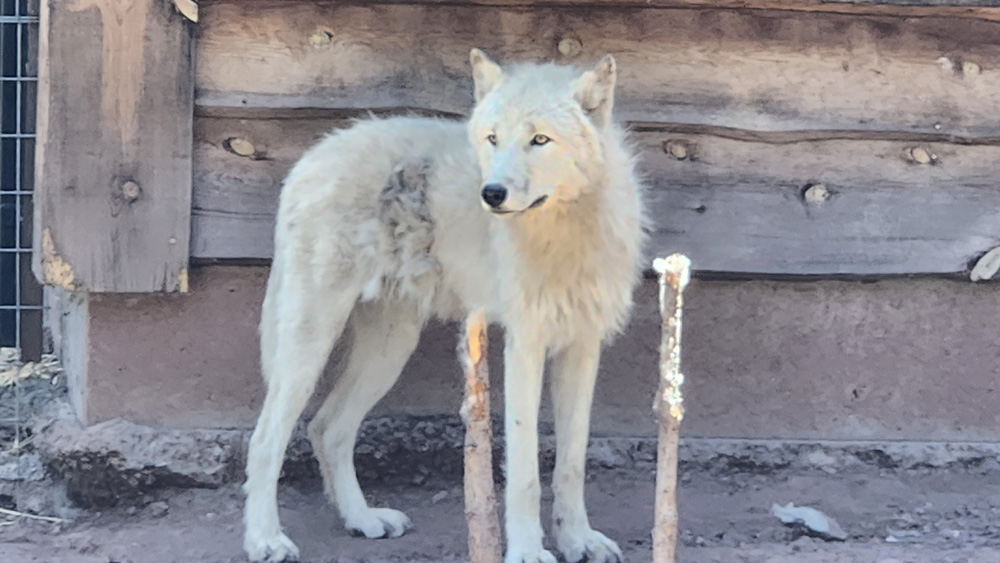 It was such a great experience watching animals in the natural habitat. Tucked away in the beautiful Ponderosa Pine Forest in Williams, AZ. The Park also offers a VIP experience behind the scenes. As well as other unique animal encounters, dining and gift shops throughout the park for guests to enjoy.
About Bearizona:
Bearizona's Mission is to promote conservation and preservation through memorable and educational encounters with North American Wildlife in a natural environment.
Bearizona practices what is called being "sensibly green". Throughout the park they try to make a lasting impact in ways that matter.
This goal is achieved through being a home for orphaned wildlife, a rainwater collection program, and much more.
Bearizona is open year-around. *Hours may vary on holidays. Call for the most accurate information.
The Park is open daily from:
8:00 AM
Last Car Admitted
6:00 PM
Closes
7:30 PM
And is located at.
Bearizona Wildlife Park
1500 E. Route 66
Williams, AZ 86046
(928) 635-2289
Travel Reviews
Destination: Victoria Falls, Devil's Pool, Zimbabwe and Zambia at glance.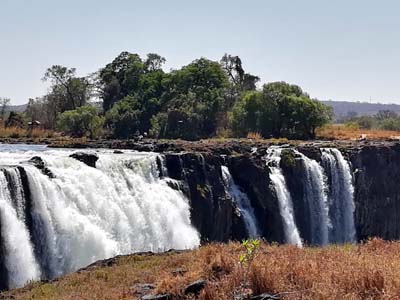 Ranked as one of the Seven Wonders of the Natural World, Victoria Falls is located on the Zambezi River on the border between Zimbabwe and Zambia. When explorer David Livingstone became the first European to set eyes upon the falls in 1855, he commented that "scenes so lovely must have been gazed upon by angels in their flight". Certainly, the planet's largest sheet of falling water is an impressive sight. Today, it remains one of the most popular destinations in Southern Africa, with visitors traveling from far and wide to admire the falls from viewpoints on both sides of the river.
Victoria Falls Facts & Statistics
At 5,604 feet/1,708 meters in width and 354 feet/108 meters in height, Victoria Falls is neither the world's widest or tallest waterfall. However, the combination of both measurements makes it the world's largest waterfall, with over 500 million liters of water plunging over the edge per minute during peak flood season. This astonishing volume generates a curtain of spray that can be seen from up to 30 miles/48 kilometers away, giving the falls its indigenous name, Mosi-oa-Tunya or 'The Smoke That Thunders'.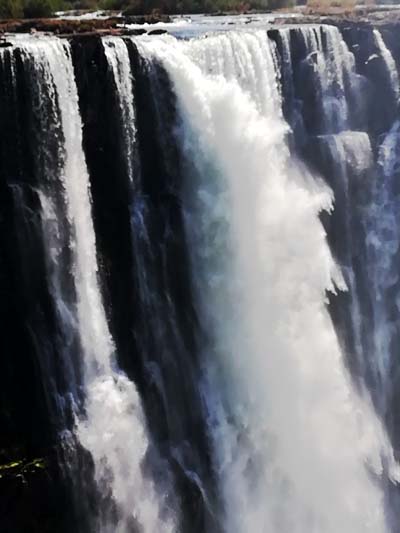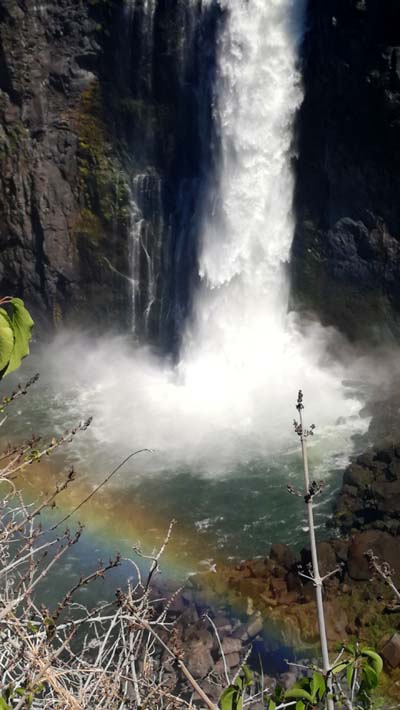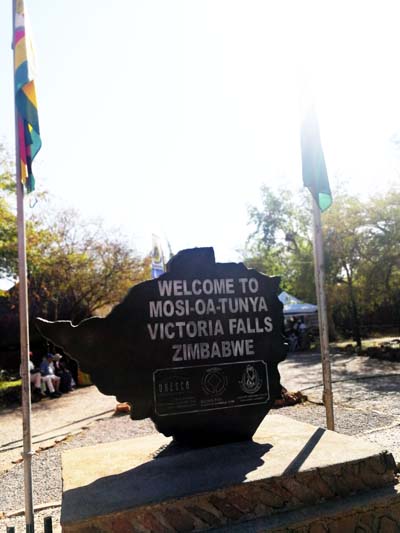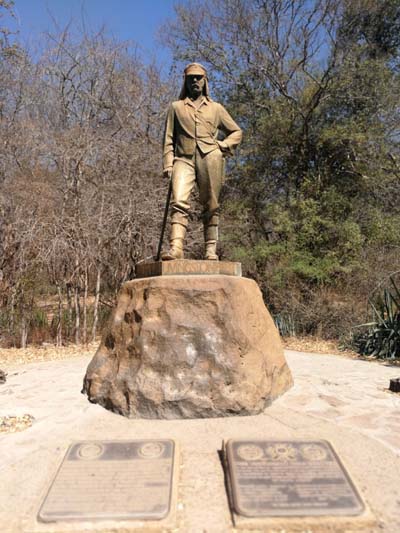 Victoria Falls is part of two national parks: Mosi-oa-Tunya National Park on the Zambian side and Victoria Falls National Park in Zimbabwe. The falls' unique geography means that you can view them face-on and experience the full force of their thundering noise and power. The rainy season in Southern Africa lasts from late November to early April. If you want to see the falls at their most impressive, travel between February and early May when they are in peak flood. That being said, Victoria Falls is a rewarding destination all year round.
To view the Falls there are two options:
Zimbabwe
Two-thirds of the falls are located in Zimbabwe. Head to Victoria Falls National Park to explore a series of well-marked pathways that wind their way through the rainforest to provide access to 16 different viewpoints. From here, enjoy classic, face-on views of the Main Falls, which are impressive even in the height of the dry season. The Zimbabwean side is renowned for its excellent game-viewing opportunities, while Victoria Falls town is closer to the falls than the Zambian gateway, Livingstone.
Zambia
Zambia offers fewer viewpoints, and if you travel during the driest months (October and November), the Zambian section of the falls may have dried up completely. However, many visitors prefer the slightly wilder, 'road-less-traveled' feel of Mosi-oa-Tunya National Park. The park is also half the price
of its Zimbabwean counterpart at $15 per person. Most activities are available on both sides of the falls. The exception is Devil's Pool, a natural swimming pool on the edge of the falls that can only be accessed from Zambia's Livingstone Island. For adrenalin junkies, this is an experience not to be missed.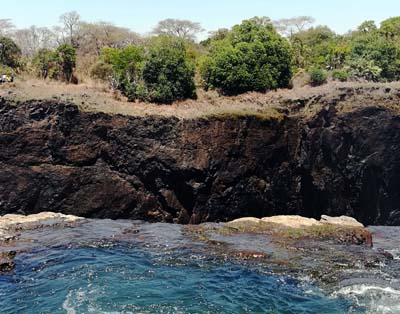 View from Devil's Pool
Devil's Pool is a natural rock pool located next to Livingstone Island on the lip of Victoria Falls. During the dry season, the pool is shallow enough to allow visitors to swim safely to the edge, where they are protected from the 330 foot/ 100 meter drop by a wall of submerged rock.Under the supervision of a local guide, it is even possible to stare over the edge of the abyss into the boiling boiling pot of froth and spray below. This is the closest that you can get to the Falls, and an unforgettable way to experience the sheer power of one of the world's Seven Natural Wonders.
Devil's Pool can only be accessed from the Zambian side of the Zambezi River. The easiest way to get there is to join one of the Livingstone Island tours arranged by local operator Tongabezi Lodge. After a short boat ride to the island, your tour guide will help you to navigate over a series of rocks and shallow sections of rapidly moving water to the edge of the pool. Once there, entering the pool requires a leap of faith from an overhanging rock. You'll need to trust that you won't be swept over the edge; but once you're in, the water is warm and the view is incomparable.
Swimming at Devil's Pool is only possible during the dry season, when the river level falls and the flow of water is not as strong. The pool is therefore generally only open from mid-August to mid-January, during which time Tongabezi Lodge runs five tours per day. It is possible to book in advance via their website, or through recommended operators in Zambia and Zimbabwe including Safari Par Excellence and Wild Horizons. The lodge's twin-engine boat has space for up to 16 visitors. Excursions include a tour of Livingstone Island and an insight into its history from ancient sacrificial site to present-day World Heritage Site.
There are three tours to choose from: the Breezer tour, which lasts 1.5 hours and includes breakfast; the Lunch tour, which lasts 2.5 hours and includes a three-course meal; and the High Tea tour, which lasts two hours and includes a selection of rolls, cakes and scones. The tours are priced at $110, $175 and $150 per person respectively.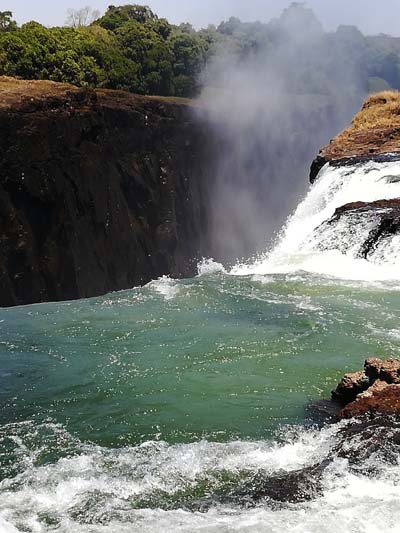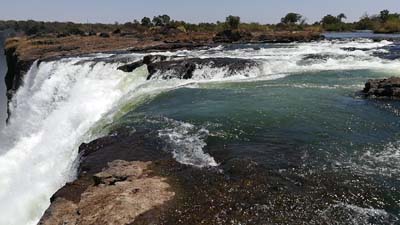 View the Falls From the Air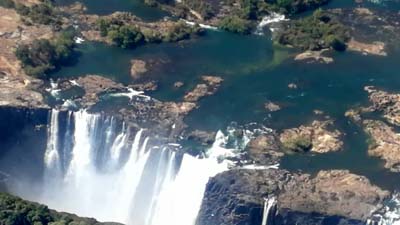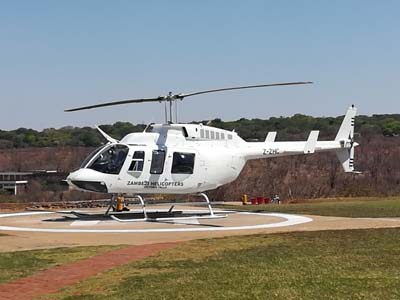 Sightseeing flights may be pricey, but they also offer an unforgettable way to appreciate the falls' sheer size and spectacular scenery. Companies like Wild Horizons offer helicopter tours, with different lengths and routes to choose from and specially curved windows that allow for the best views and photographs. If you're feeling particularly brave, you can always sign up for a microlight flight instead. Batoka Sky offers a combination Victoria Falls and game viewing flight that gives you the chance to spot the wildlife of Mosi-oa-Tunya National Park from the air.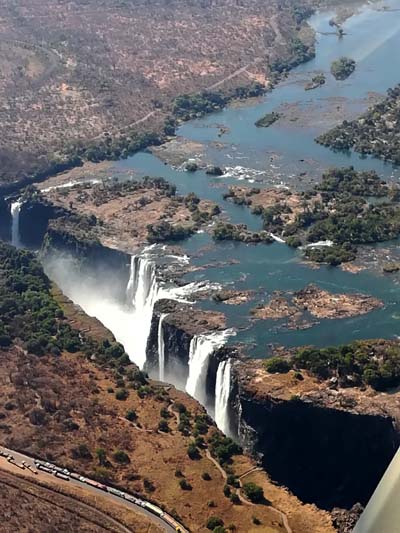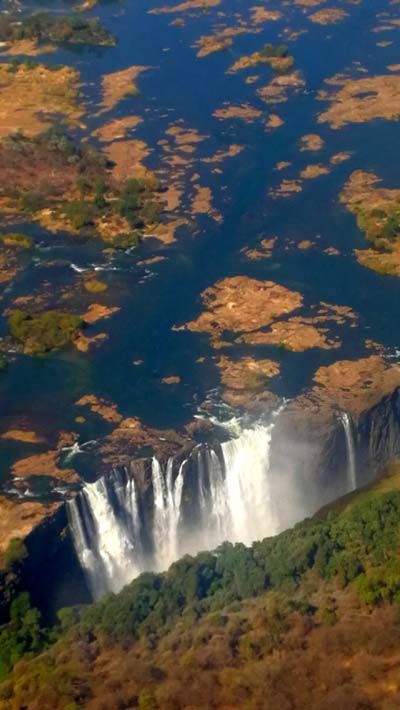 Victoria Falls Hotel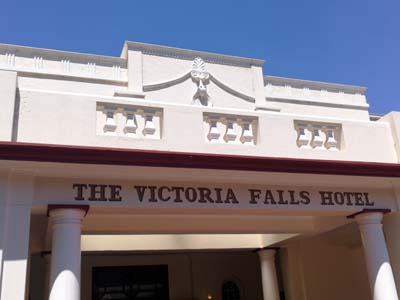 With dramatic views of the gorges of Zimbabwe's spectacular Victoria Falls, The Victoria Falls Hotel, built by the British in 1904, was originally conceived as accommodation for workers on the Cape-to-Cairo railway) and today it is a famous luxury brand . Now a member of The Leading Hotels Of The World. Serene Lily ponds, arched loggias and broad verandas – offering magnificent vistas – seem custom-built for a spot of high tea or a relaxed gin and tonic. Some rooms offer stunning views of the gorges and bridge below.
The history of The Victoria Falls Hotel is incomplete without the reference to the development of the railway system in Zimbabwe. Cecil Rhodes had tasked his friend and colleague Sir Charles Metcalfe with overseeing the development of the railway system and Metcalfe took heed of Rhodes' dreams of the railway line stretching "from Cape to Cairo," hence he started plans for the first bridge across the mighty Zambezi. Rhodes was insistent that the bridge should be built in a place that the spray from the falls would fall on the passing trains, which is why the site was chosen just a little below the Boiling Pot, at almost right angles and in very close proximity to the falls.
The Victoria Falls Hotel was built and operated by the railways administration, but in the early 1970s it was leased to the then Southern Sun hotel group, forerunner of today's African Sun Limited. A significant development in the late 1990s was the involvement in the hotel of another leading Zimbabwean hospitality operation, Meikles Africa Hotels. Today the property itself still belongs to the National Railways of Zimbabwe and there is a shared 50/50 partnership operation between African Sun and Meikles Africa.
In his intriguing book "100 Years 1904-2004" (history of The Victoria Falls Hotel) John Creewel calls it "one of the truly special places in the world" and says the hotel is a jewel because of "consistent attention to quality and standards over a century of operation."
He notes that the most important factor behind the hotel's success has been "its close proximity to Victoria Falls, one of the most remarkable sights in the world….a spectacle unrivalled in the world."
Steeped in history and one of the oldest Hotels in Africa, The Victoria Falls Hotel serves is a reminder of the distinguished and elegant era to which it was born and has earned its status as the epitome of grand luxury travel. The Victoria Falls Hotel remains the landmark accommodation facility to view the popular tourist attraction, the wondrous Victoria Falls now in its 150 Millionth Fantastic Year!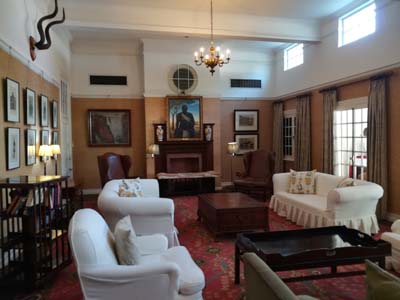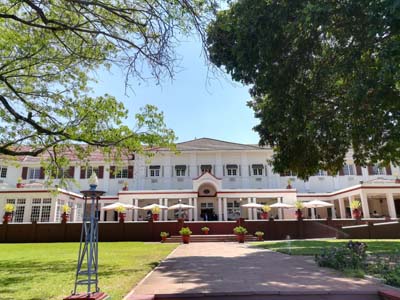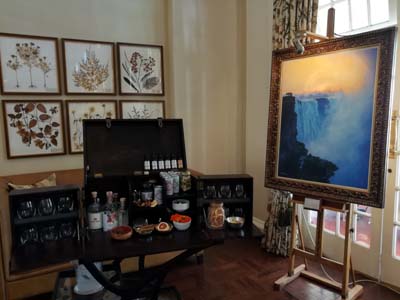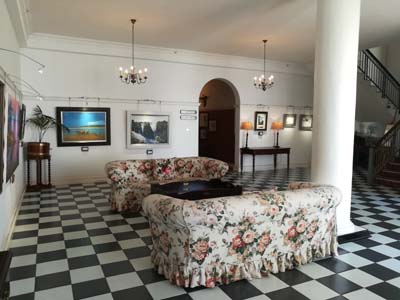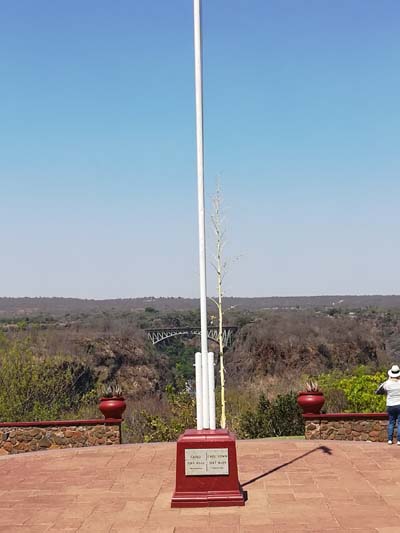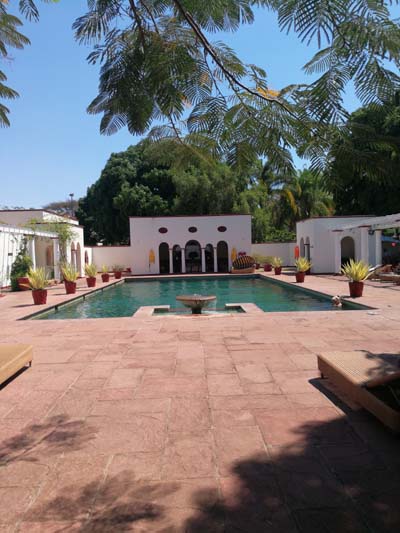 Another amazing experience.
Crocodile Cage Diving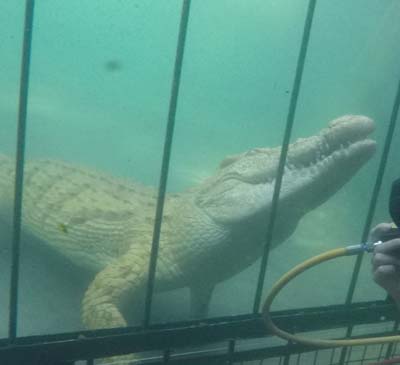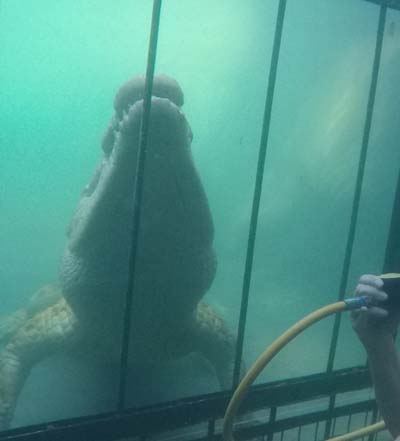 Crocodile Cage Diving is located in the center of Victoria Falls town. Whilst in the cage you can observe these fascinating carnivores pushing powerfully through the water from all angles. A secure cage give visitors the opportunity to view these Zambezi predators in action underwater where their fierce power is visible as it's not on land. Crocodile Cage divers can watch, touch and experience crocodiles in their own environment. Get a unique underwater look at their short legs, thick tails, scaly scutes along the back and impressive jaws.
South Luangwa, Mfuwe Lodge & Bush-Spa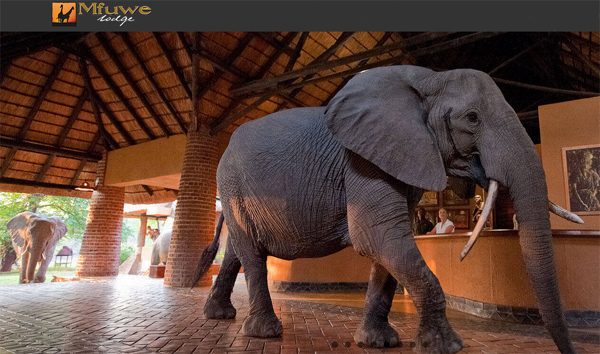 By Sonja – Another breathtaking amazing experience.
I was met at the airport and taken to the Mfuwe lodge and was pleasantly surprised how beautiful it was.The lodges location is near the park entrance which is the perfect to start for my journey.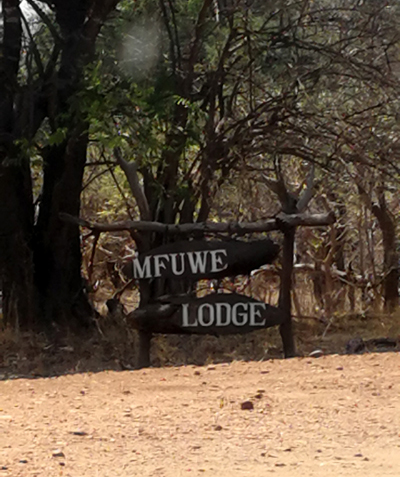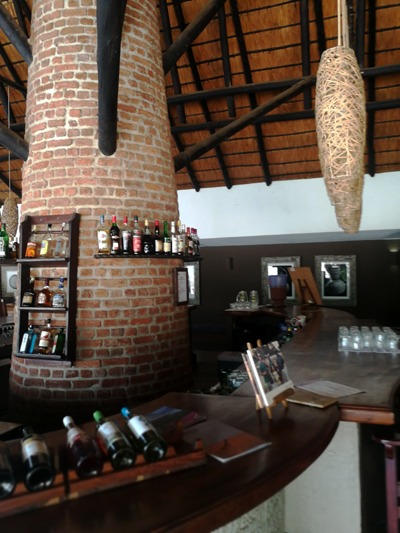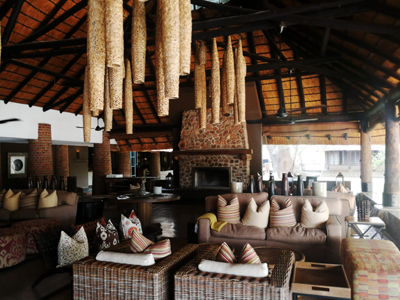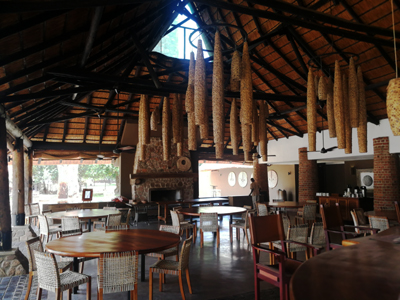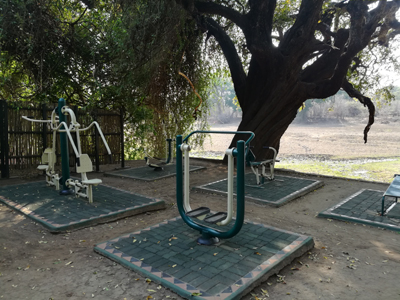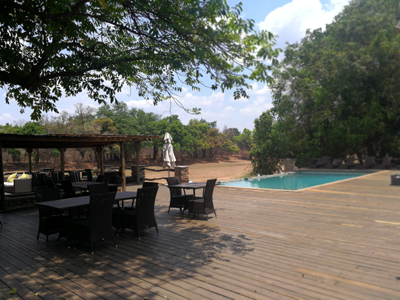 After a delicious brunch I headed to the Bush-Spa for a long awaited much needed massage.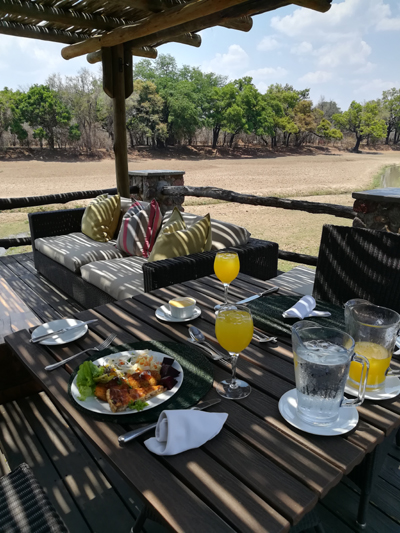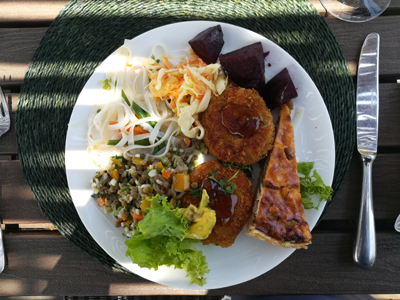 About The Bush-Spa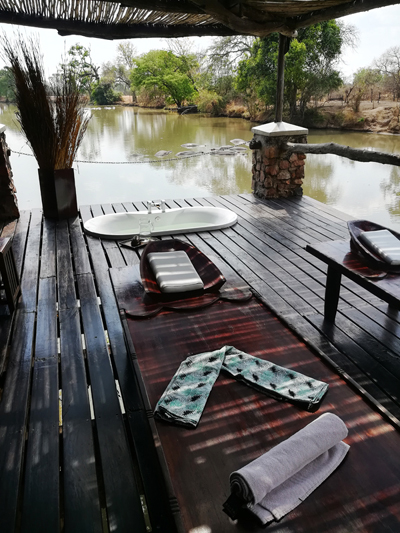 The award winning owner run Bush-Spa in South Luangwa National Park overlooks a lagoon that attracts abundant wildlife and the view is quite breathtaking! The safari guest is offered a range of well-being packages, offering the discerning visitor an exclusive opportunity to experience a spa in the Zambian bush. The settings are hard to beat and the treatments are adapted to suit the surroundings and are not only terrific value for money, but really do leave you feeling revitalized.
In celebration of the African culture, the Bush-Spa creates very unique signature treatments using indigenous plant ingredients. Professional Massage techniques, Facials and Body works from all over the world are combined with ancient African holistic practices to create a truly unique African experience to the highest standards.
Taking indigenous remedies to the extreme and making use of the healing essence, the in-house trained, Zambian therapists follow African traditions without losing their quality and highly professional touch.
From quick safari facials using cucumber and seasonal baobab, to full body, professional (therapeutic) massages incorporating herbal oils, body glows and wraps with Kigelia (Sausage tree) to warming aqua sessions, just about every need is covered.
Your game viewing can even continue whilst enjoying a Zambian Foot Reflexology!
We pride ourselves on the attentive qualified Zambian therapists who are on hand to provide you with a wide variety of massages and a host of other therapeutic and beauty skin care treatments. Many of these use local indigenous ingredients from the African bush further emphasizing its beauty and enchantment.
The Bush-Spa received the "Certificate of Excellence" from TripAdvisor years in a row and guests' comments can be reviewed under Things to Do in South Luangwa.
The Bush-Spa is also the proud winner of two (!) World Luxury Spa Awards! In recognition of our Spa's outstanding achievement in service delivery over the past years (voted for by our guests and industry consultants), we are the proud winner of the Best Safari Spa in Zambia and Best Spa Manager for Zambia!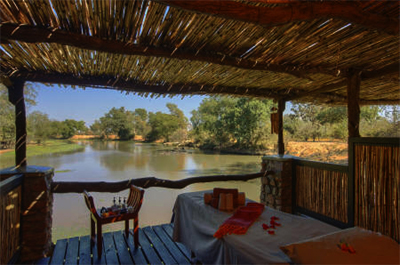 A quick glance at the Bush-Spa
The Bush-Spa has individual and couples' treatment rooms, and an open air wet deck featuring a "lagoon tub" for heavenly aqua treatments.
All rooms are open-sided compartments that allow you to enjoy the living soundtrack and feel the natural breeze in your hair.
The treatment menu includes all the classic spa staples with a local twist, utilising indigenous African oils and local techniques to offer intriguing options such as an African Goddess Anti-Ageing Facial, a Luangwa Valley Mud Wrap and the varied Big Five Pampering Aqua Packages.
The Bush-Spa is open daily during daylight hours.
Being located on an open deck overlooking the lagoons, calls for stunning views, but also has a negative side. As soon as the sun sets, the mosquitoes become very active, making treatments in the evening hours very uncomfortable and therefore mostly not done.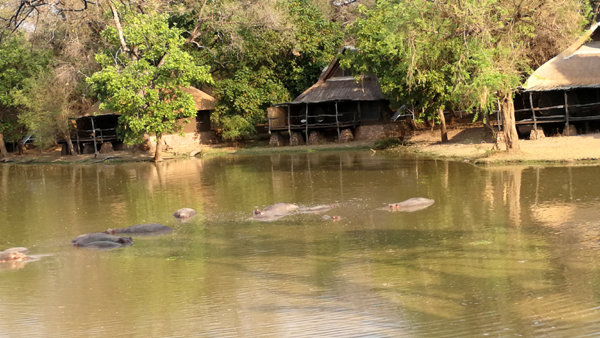 After a relaxing massage I went on a game drive where I saw a lion who just killed a buffalo (sadly), hippos, crocodiles, elephants, a leopard, hyenas, giraffes a variety of birds, just breathtaking.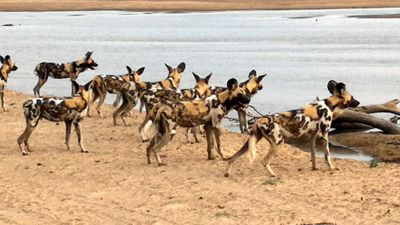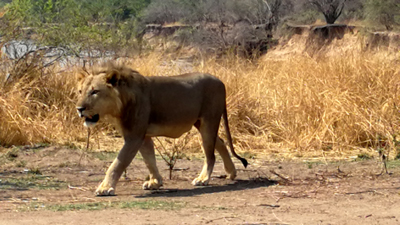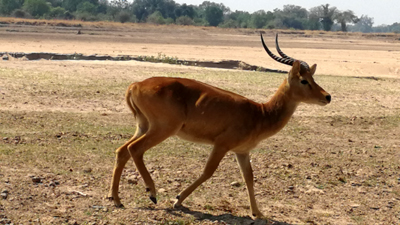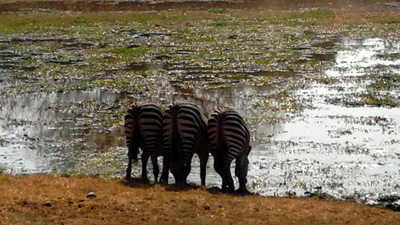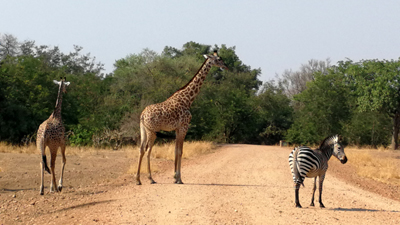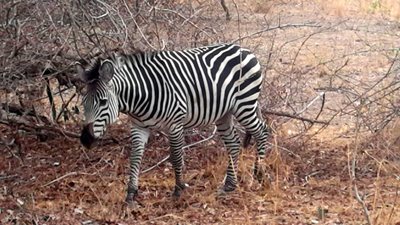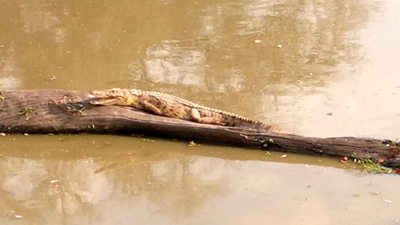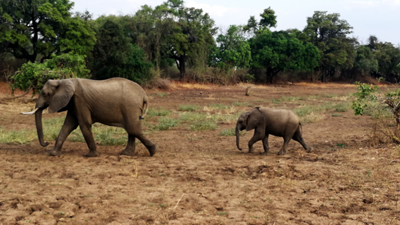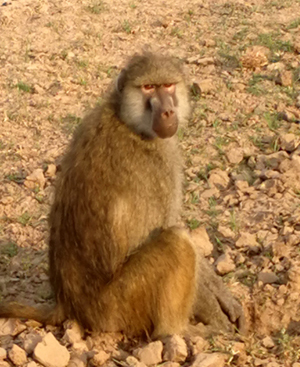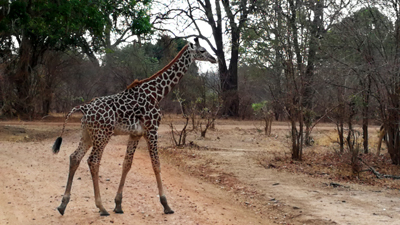 After the gamedrive it's back to the lodge were I enjoyed a buffet style barbecue dinner, which was delicious.
The service and food was excellent with all the staff being very friendly. After a long first day I looked forward getting a good night sleep. My room was very comfortable with a great view of the lagoon and hippos launching in it.
I very much enjoyed my first night at the Lodge after a long journey, and only can recommend Mfuwe Lodge and definitely would stay there again.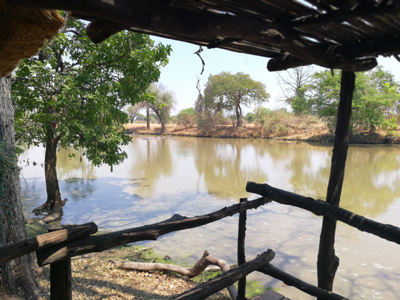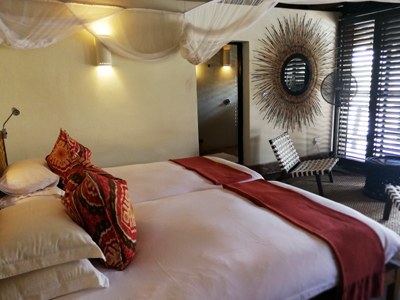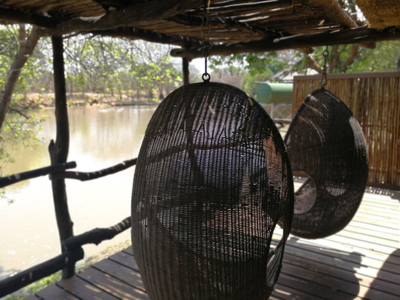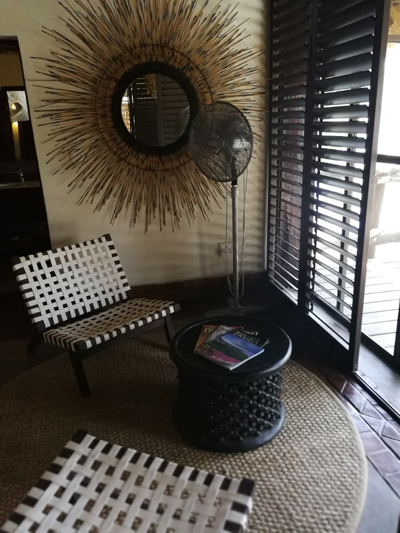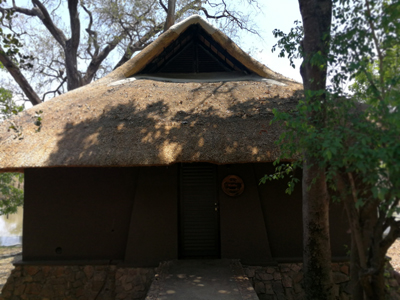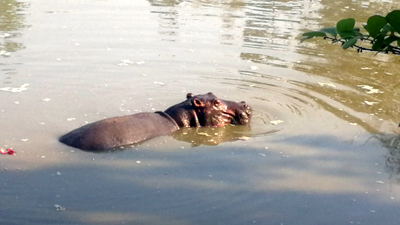 About the Mfuwe Lodge:
The Mfuwe Lodge, is located within the park. The award-winning Mfuwe Lodge, is built under thatch and supported by palm tree poles, is situated in Zambia's game-rich Luangwa Valley in the South Luangwa National Park, a conservation area famous for its concentrations of hippo, buffalo and elephant as well as being home to all the major predators.
Cool off in the lodge's swimming pool while watching African wildlife graze or drink at the lagoon below you or head off on an exciting morning, afternoon or night game drive or even a guided walking safari. And after all the excitement, spend some quiet time rejuvenating at the bush spa while drinking in the beautiful views of the river.
Highlight include:
Set over a lagoon in a game-rich valley
Viewing decks & pool overlook the river
Thrilling safaris either by foot or with a game-drive vehicle
Bush spa with private views over the river
Perfect honeymoon bush camp
Hippos wallow in the pool by the spa and in front of the chalets.
About the Chalets:
Scattered along the banks of the lagoon are Mfuwe's 18 private chalets. Each Standard Chalet offers open-plan living, an en suite bathroom, mini bar and private game-viewing deck overlooking the lagoon. The bathing corner, which opens up to give guests an open-air bathing experience, is a special feature of each chalet.
Other room types:
Five of the suites at Mfuwe have an elevated sleeping area, double beds, a private bar and increased lounge space in additional to the features that are standard to all chalets.
Facilities:
The enchanting thatch-and-timber Mfuwe Lodge offers a cool, airy and comfortable stay on the banks of a lagoon that teems with wildlife. The central open-plan lodge provides plenty of comfortable spaces in which to relax, lounge, dine or enjoy a refreshing drink at the bar.
The generous wooden deck and swimming pool overlook the lagoon and you will have the unforgettable experience of watching hippos while you take a cooling dip in the swimming pool or enjoy a sundowner drink.
The nature conservation library has its own deck shaded by giant ebony trees while the private Bush Spa offers contemporary treatments and massages for your body and beautiful views of the river for your soul.
Dining:
Enjoy freshly-made breakfasts, buffet lunches and gourmet dinners under African skies in the reed-enclosed boma which includes a bar and lounge for your comfort.A full English breakfast is prepared on a wood and charcoal grill in a nearby shady grove once a week.
Other Lodges owned by the Bushcamp Company include: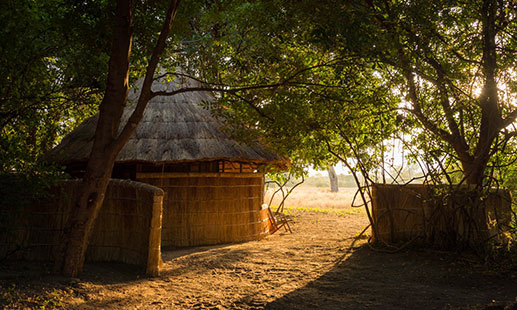 Kuyenda
With its cluster of traditional thatched grass huts and back-to-nature feel, this charming and rustic camp offers a true taste of the African bush with one of the Luangwa's premier guides at its helm. Camp can accommodate up to eight guests in four rustic thatched rondavels and offers guided walking safaris, plus day and night game drives (open from June to November).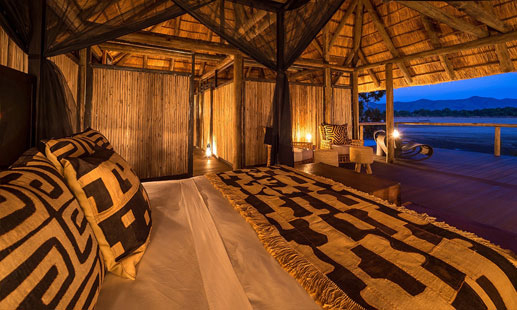 Chamilandu
A breathtaking camp on one of the South Luangwa's prime river locations, perfect for a bird's-eye view of the wildlife that the river and its lagoons attract – there's nothing quite like waking up at Chamilandu! Camp can accommodate up to six guests in three raised tree-houses and offers guided walking safaris, plus day and night game drives (open from June to November).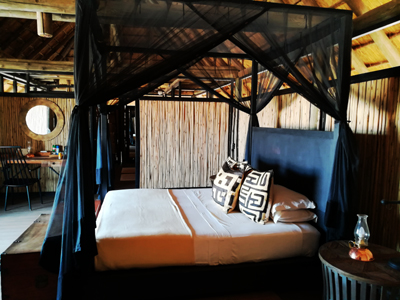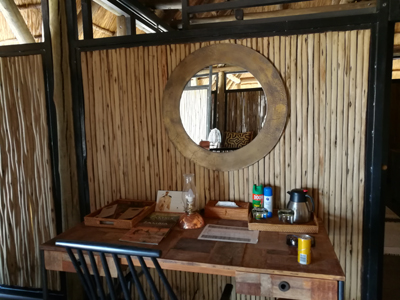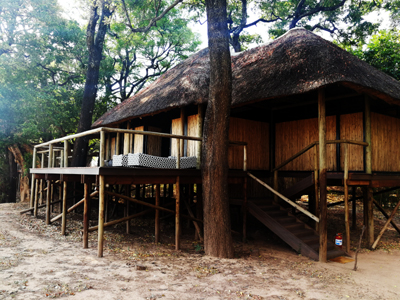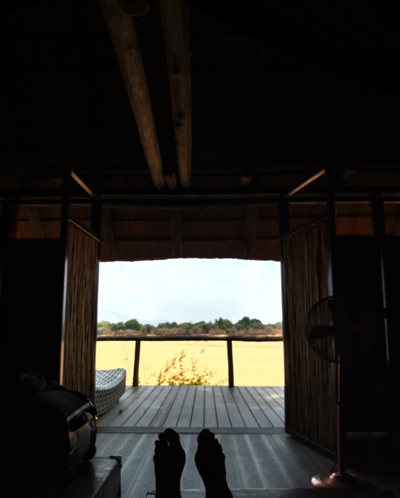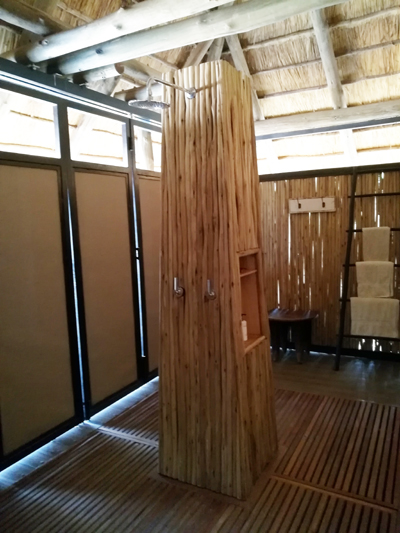 An inside look into the beautiful Chamilandu Chalet.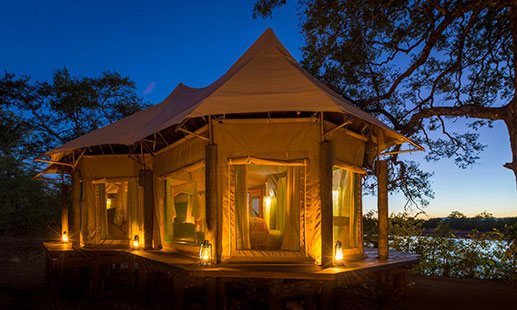 Chindeni
A sublime camp on the edge of a permanent lagoon with the Chindeni Hills providing a truly breathtaking backdrop – undoubtedly one of the most beautiful tented camps in the South Luangwa. Camp can accommodate up to eight guests in four luxurious tents and offers guided walking safaris, plus day and night game drives (open from May to December).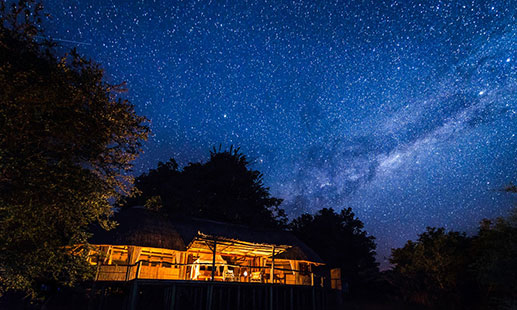 Bilimungwe
Here, the traditions of the African bushcamp meet elegance and style to create a beautiful camp that blends seamlessly with its surroundings. This picturesque and intimate camp offers an authentic safari experience in the knowledgeable hands of an award-winning guide. Camp can accommodate up to eight guests in four extremely spacious thatched chalets on raised decks and offers guided walking safaris, plus day and night game drives (open from May to December).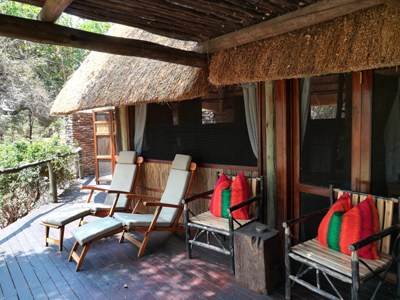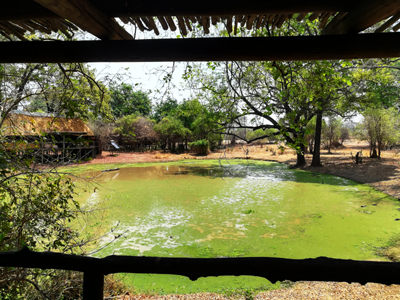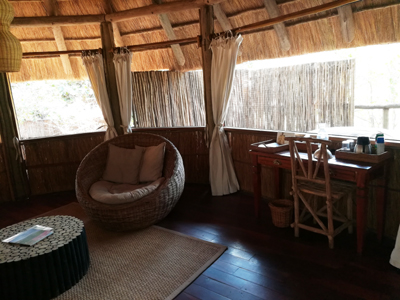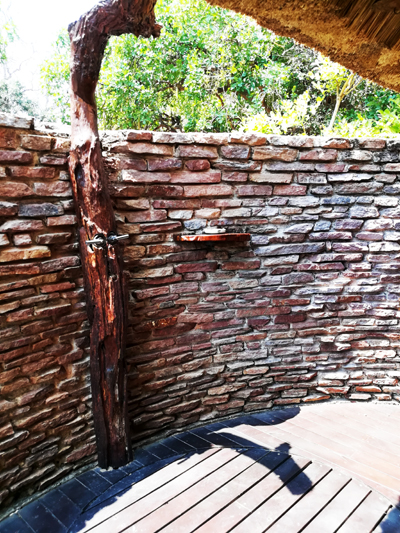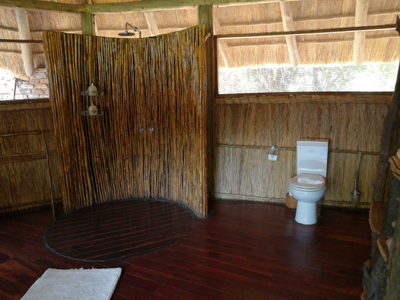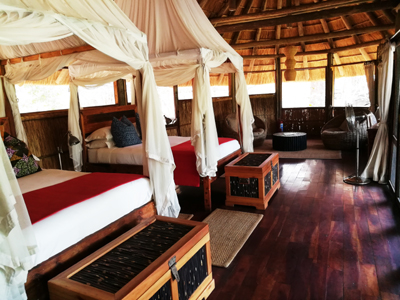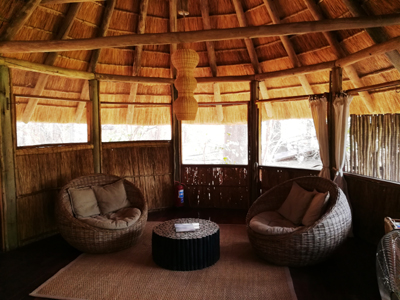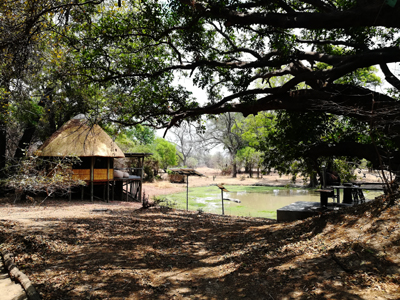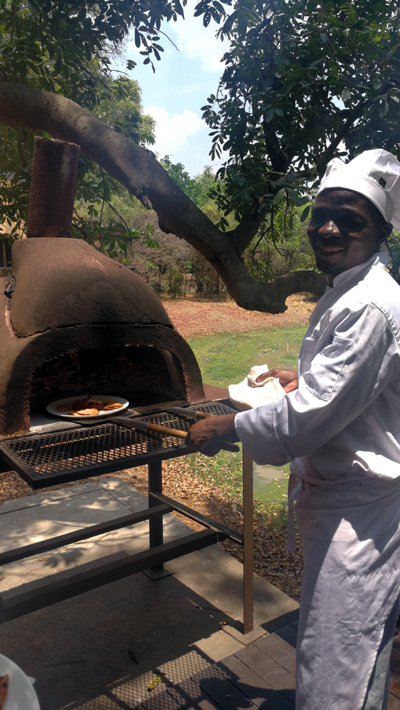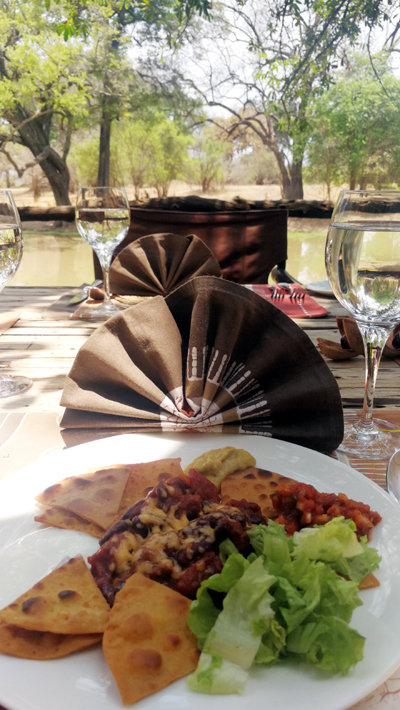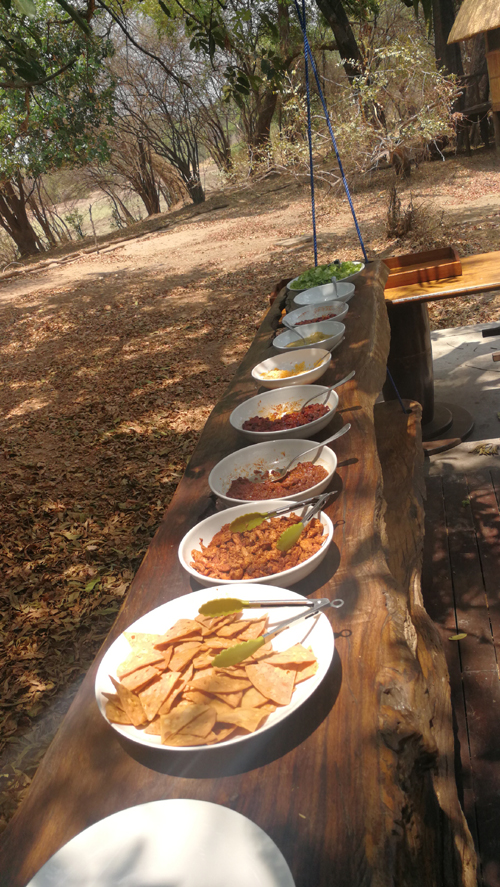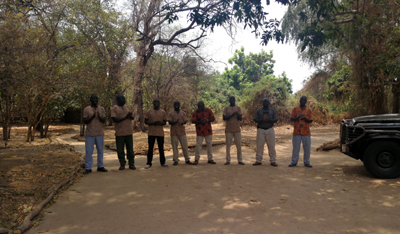 An inside and surrounding look at the beautiful Bilimungwe Chalet.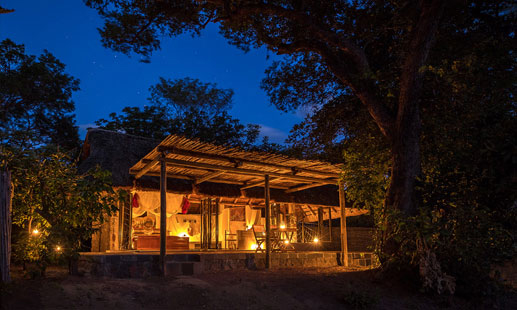 Kapamba
A remote and romantic bushcamp situated in a prime location on the Kapamba River, this stylish camp combines the isolation and superb game-viewing opportunities of a true bushcamp with a touch of luxury. Camp can accommodate up to eight guests in four spacious thatched chalets and offers guided walking safaris, plus day and night game drives (open from April to January).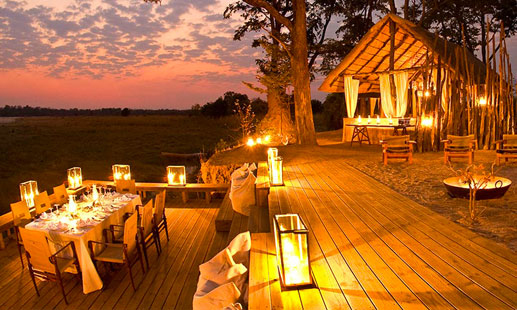 Zungulila
A quiet retreat where the spirit of old colonial Africa lives on in one of the remotest corners of the South Luangwa. Zungulila looks out over the sparkling Kapamba River and an expansive plain where natural springs attract huge herds of game. Camp can accommodate up to eight guests in four Meru-style thatched tents and offers guided walking safaris, plus day and night game drives (open from April to January).
Each of the six bushcamps is set in glorious surroundings and can accommodate a maximum of just eight guests, ensuring that your stay is a peaceful one and tailored to your personal needs. Together with the warmest of hospitality, sumptuous meals and first-class guides, the bushcamps are the perfect gateway for individuals and small groups wishing to explore the spectacular wildlife of the South Luangwa.
In the South Luangwa, the walking safari is king. This is what theyare famous for, so it is only fitting that most of your outings will be on foot with the very finest guides. Game drives are also on offer, particularly at night when a whole new cast of characters fills the landscape.
The bushcamps promise:
An intimate and exclusive atmosphere, with no more than 8 guests
Expert, professional safari guides
Stylish, beautifully-appointed chalets
Exceptional hospitality
Remote settings, free from other vehicles
Access to one of the top walking areas in Africa
Abundant game
I stayed 2 out of six and must say it exceeded my expectation, just beautifully-appointed chalets very well designed and the locations are superb. The staff is friendly at each location and the service is right on point. Only can recommend this company since each experience was just breathtaking and unforgettable. Especially some of the surprises like a reception on the Luangwa River or the personal Pizza making experience in the bush, that was very special and a lot of fun.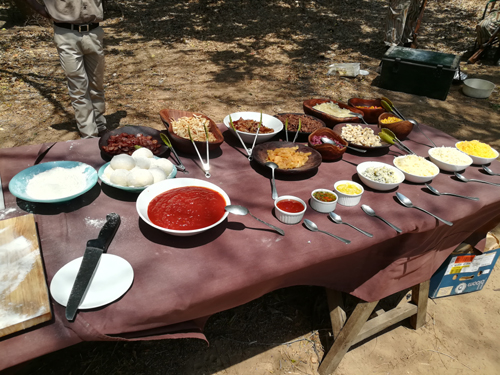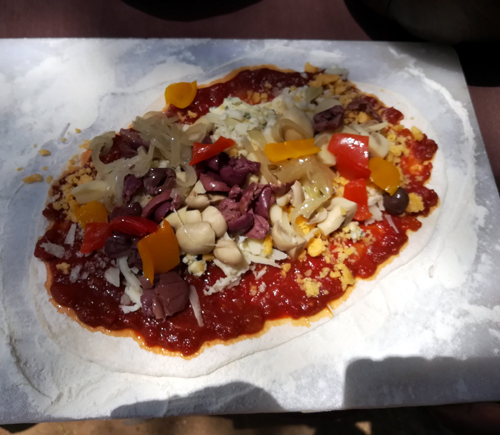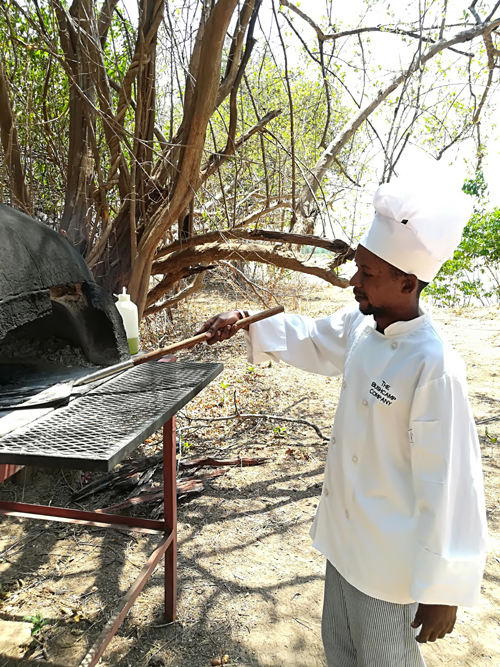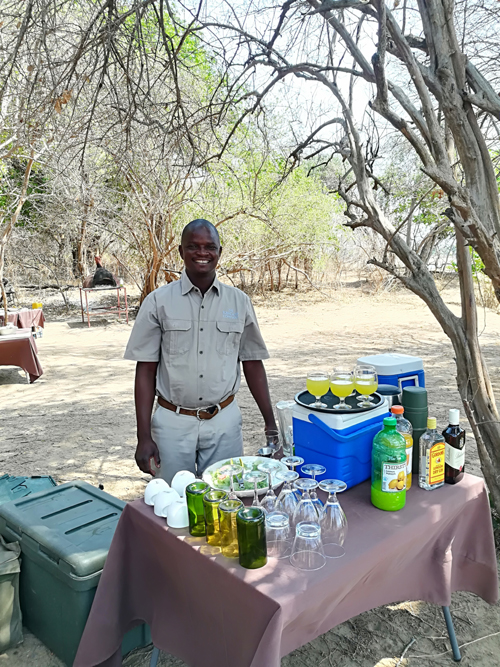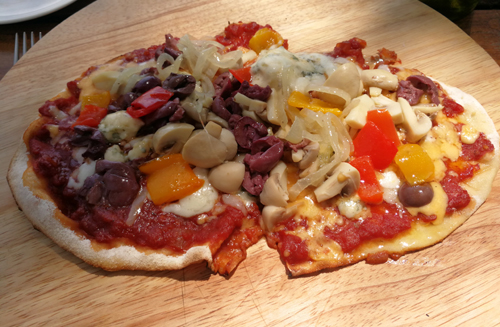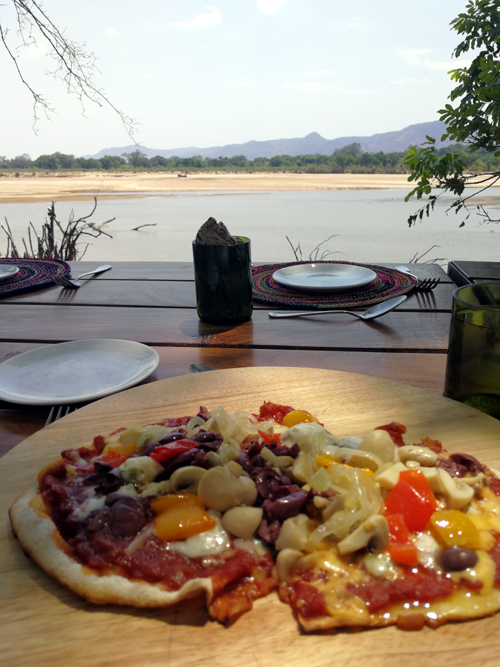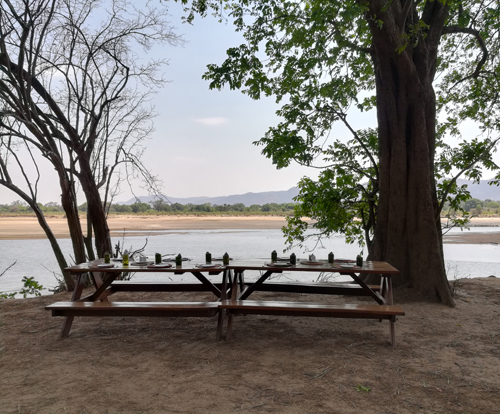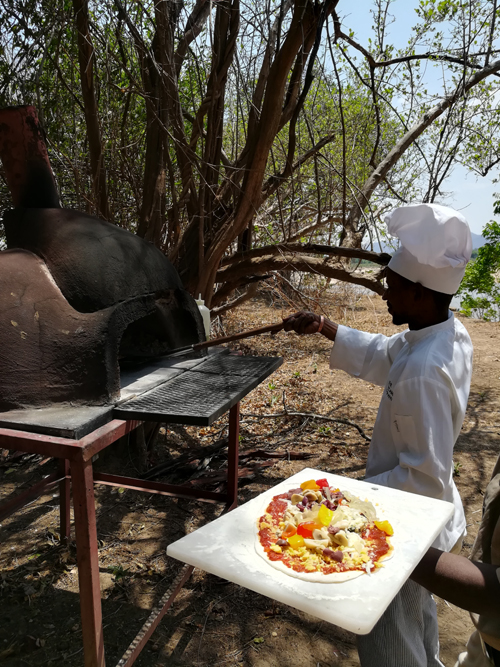 Project Luangwa
Project Luangwa is a charitable organisation formed by the Safari Operators of South Luangwa as a part of their commitment to responsible tourism.
Their aim is to create an effective, coordinated approach to helping local communities improve their long term economic prospects whilst avoiding a negative impact on the environment and wildlife.
"We believe as a charity operating in Zambia that by developing and improving education in schools and creating training opportunities we can help families have the chance of a lasting and sustainable income."
Project Luangwa has grown from an idea by Jo Pope and is managed at grass roots level by Karen Beattie and Dave Hopson, a married couple who live and work in the Mfuwe, South Luangwa.
Project Luangwa is registered with the UK Charities Commission, Reg. № 1119335, and as a Charitable Trust in Zambia, Reg. № CI 1027. It is also registered in the USA as a non-profit charity № 501(C)3 trading under the name of Kawaza School Fund.
One of many projects: Borehole Water Pump
Water is life. No one can survive without it and having access to clean, safe drinking water is vital. Especially for children. There are 68,862 people living in the Mambwe distric of Zambia, but less than 60% have access to clean drinking water from a bore hole or protected well.
It costs just $7000 to drill and install a bore hole at a school. The water not only helps the school children and teachers but can provide for up to 50 local households.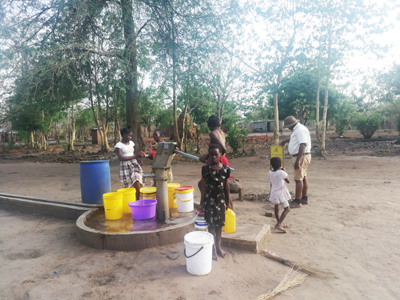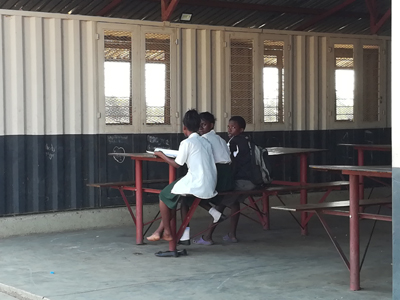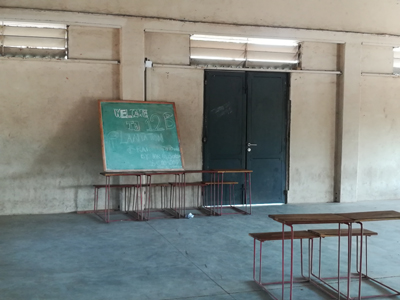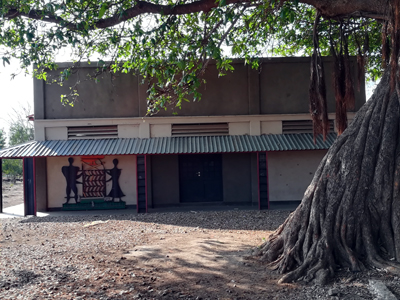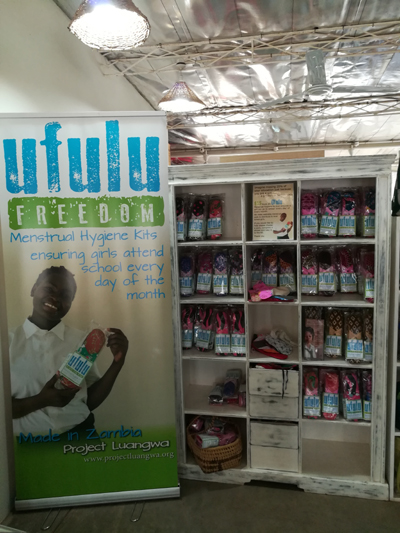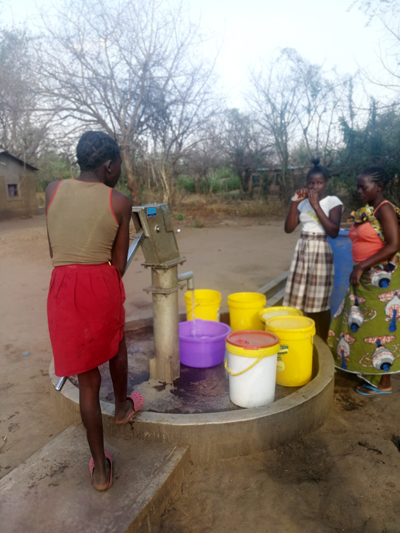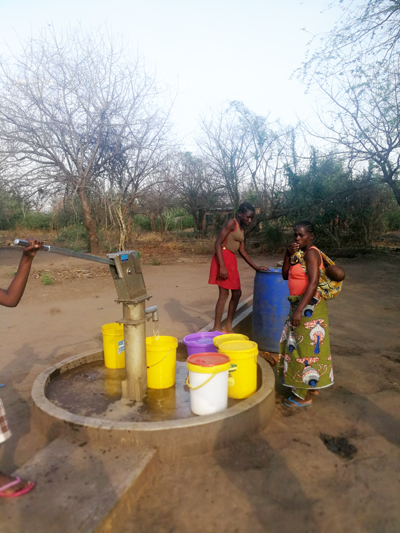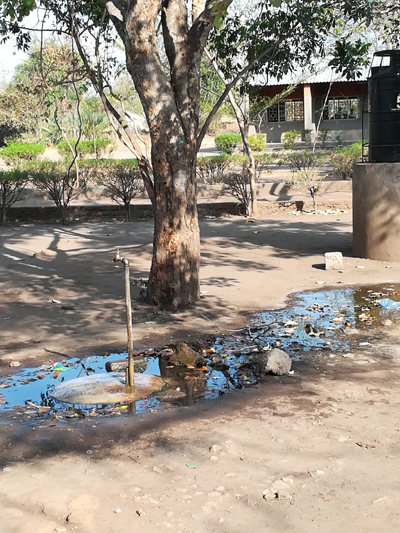 7-Days Best of Uganda Gorilla Safari and Wildlife Experience
By Sonja
I did the 7 Days Best of Uganda, and must say it was one of the best trips I ever took by far. Definitely would do it again. The tour included Game Drives inside Queen Elizabeth National Park, Chimpanzee Tracking and Gorilla Tracking.
Day 1: I started off in Kampala at the beautiful Mestril Hotel & Residences located in the periphery of Kampala City, on Nsambya Hill. Méstil Hotel & Residences presents their guests the privilege of living in an exclusive and serene space overlooking the skyline and other historical hills of Kampala with proximity to Embassies, Hospitals, Art & Crafts centers and fresh Food Markets among other areas of interest. The Hotel has a beautiful pool, spa, gym, restaurants and offers conferences and meetings room spaces.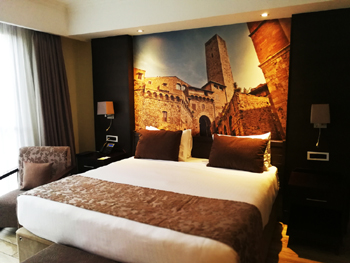 The Rooms showcase the ever evolving, vibrant and distinctly urban vibe of Kampala city. The contemporary interior design, in-room facilities and luxury amenities provide the highest level of comfort. Deluxe Authenticity, Natural, Earthy Warm Colors and Tones.
Some of the food choices offered at the Restaurant. Local catch of the day "Tilapia" fish and fries with Mushroom soup followed by the local Beer called "NILE".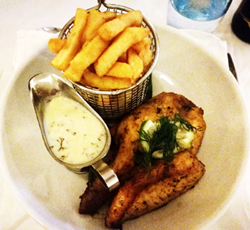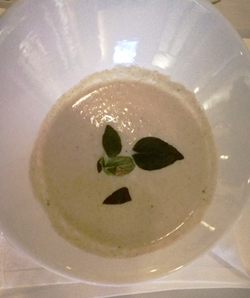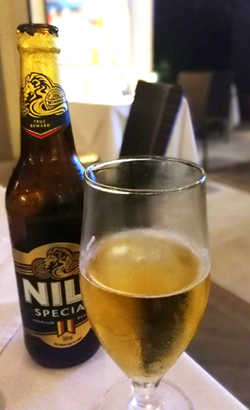 Crater Safari Lodge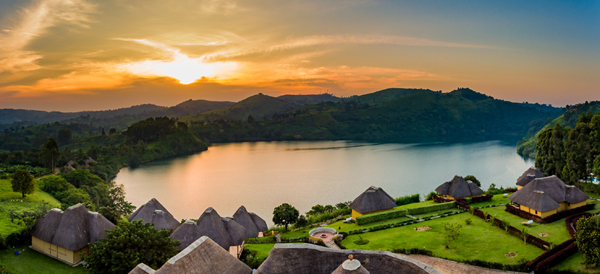 Day 2: I headed to the Crater Safari Lodge located on the banks of the Nyinabulitwa Crater Lake. Crater Safari Lodge blends perfectly in with its surrounding landscape. Crater Safari Lodge has nine luxury cottages, including two double roomed cottages for families and small groups traveling together, each cottage offers privacy and has its own large deck area from which you can enjoy a magnificent view of the Nyinabulitwa Crater Lake.
The cottages are extremely spacious and airy with well appointed en-suit bathrooms.
The main lodge building constructed from local timber and thatch, is raised up on the hill with breathtaking panoramic views over the lake.
Amenities include a restaurant, bar, expansive lounge area, craft shop, spa facility, swimming pool and campfire area overlooking the lake which is the perfect place to enjoy a drink at sunset.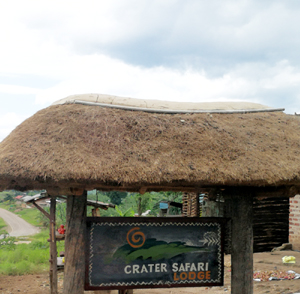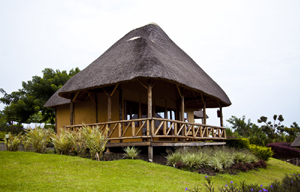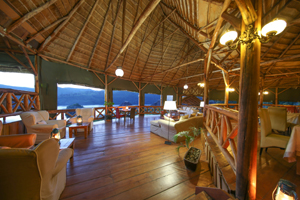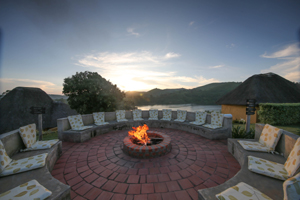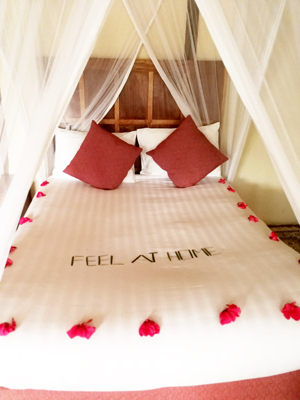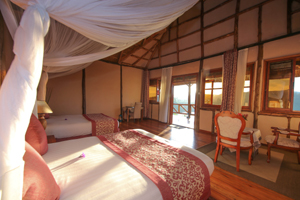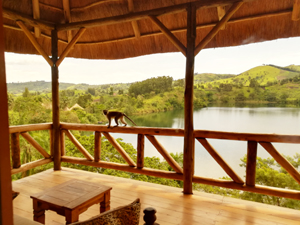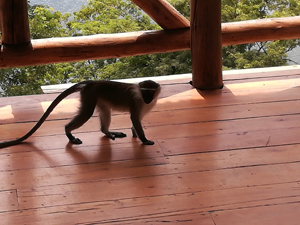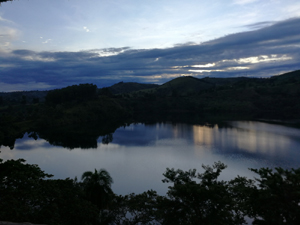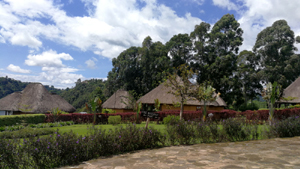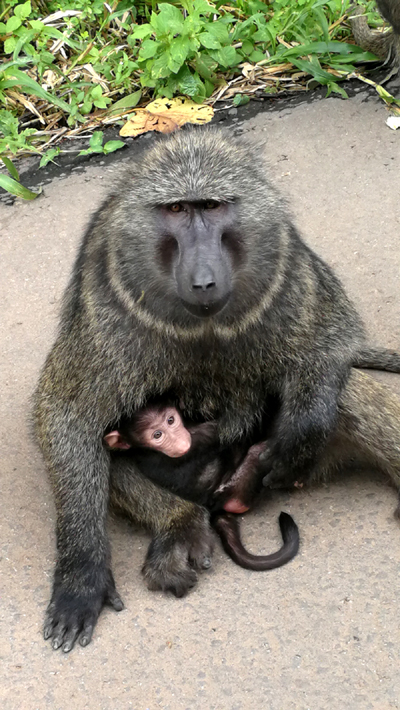 Day 3: Just a short drive away from Crater Safari Lodge is Kibale National Park home of the chimpanzees. Also my start for the chimpanzee trekking experience which was unbelievable and breathtaking just an amazing experience to see them up close and personal in the wild (where the belong).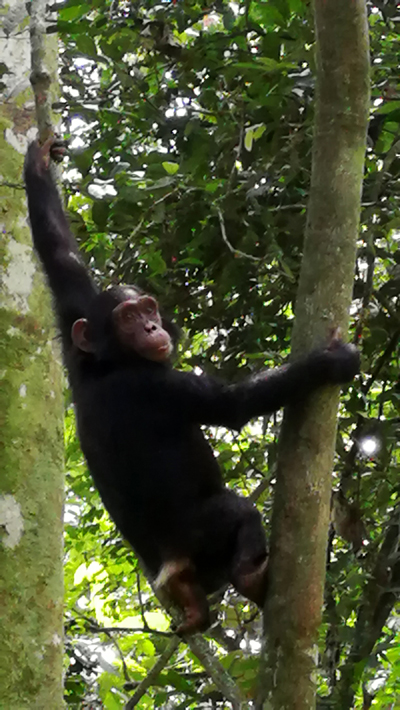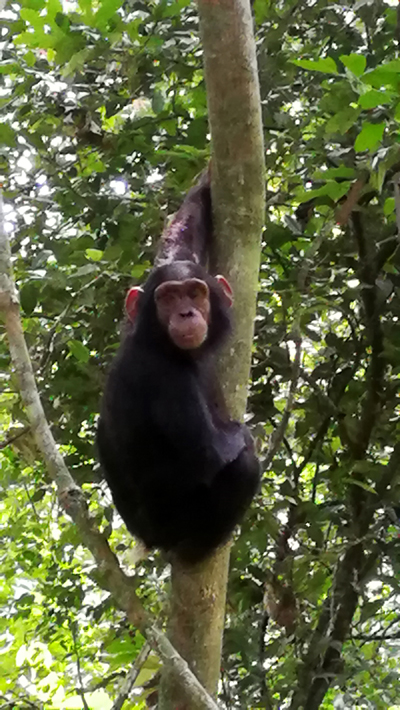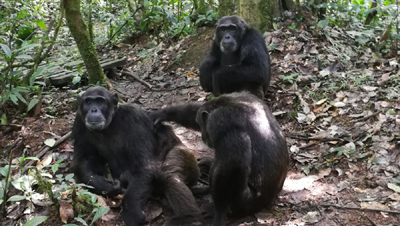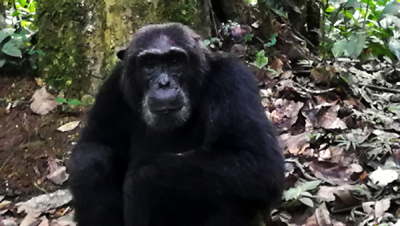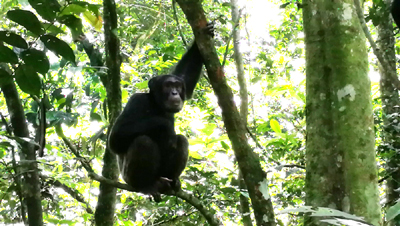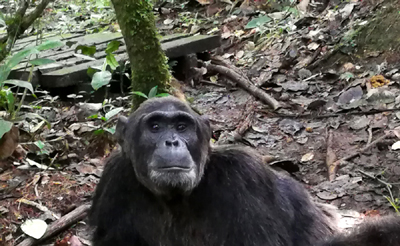 https://youtube.com/watch?v=kIL-a71X4Vs%3Fcontrols%3D1%26rel%3D0%26playsinline%3D0%26modestbranding%3D0%26autoplay%3D0%26enablejsapi%3D1%26origin%3Dhttps%253A%252F%252Fentertainmenthollywood.net%26widgetid%3D1
Chimpanzee Tracking Walks
The most popular of Kibale's walks starts daily from the Kanyanchu visitor area at 8am and 3pm and it lasts for about 2 to 3 hours. Chimpanzees are of course the primate most sought after by visitors, but many other primates can be spotted. Guests should look out for the black and white colobus monkey, red-tailed monkey and grey-cheeked mangabey. Your guide will also point out sun birds, pitas, and other bird species and will explain the traditional uses of plant species within the forest.
Local Community Walk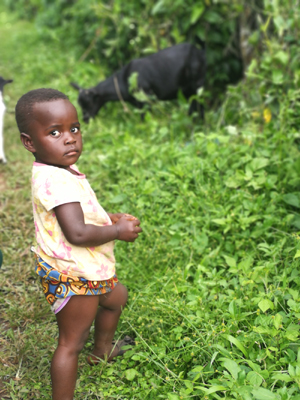 This is also a rewarding activity to expand your knowledge of local Ugandan culture. The people will introduce you to their farming methods and explain to you how they have managed to live in the area. You can also buy the locally produced art, craft items and produce.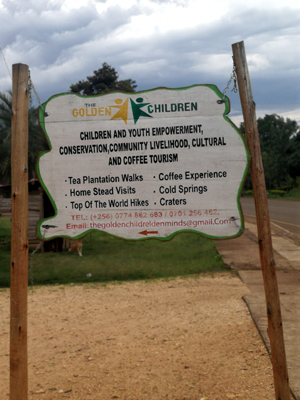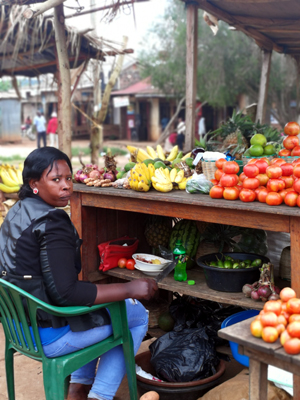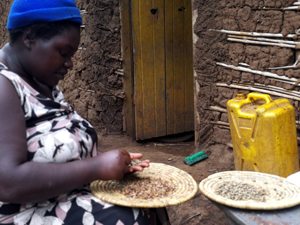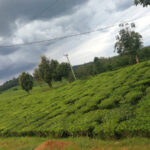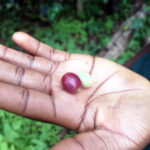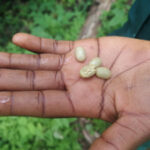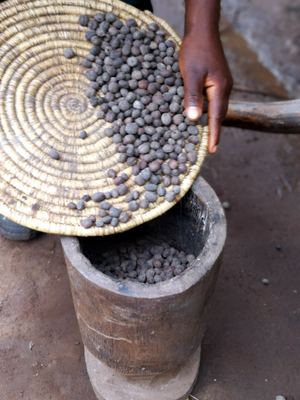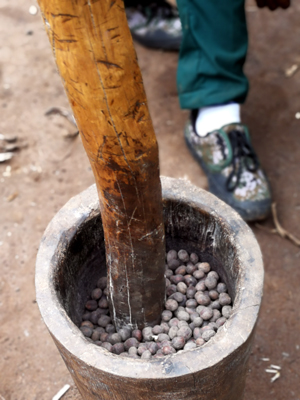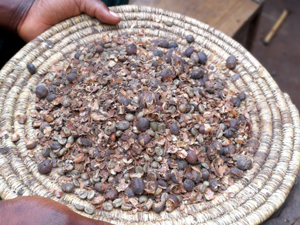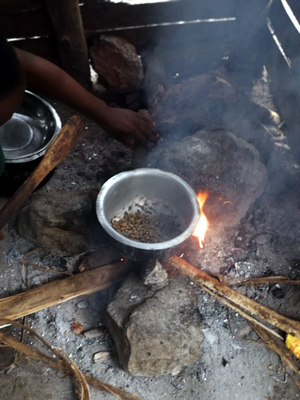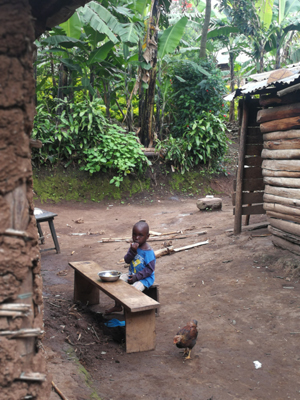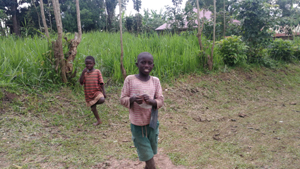 Queen Elizabeth National Park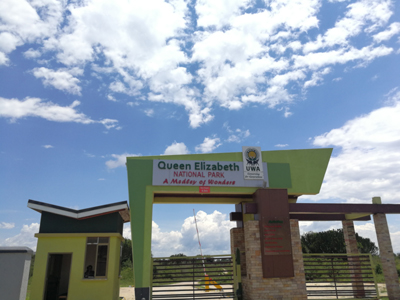 Day 4 Off to Queen Elizabeth National Park to take a cruise on the Kazinga Channel. The launch cruise offers great chances to take pictures since the boat drifts slowly just by the shores of the channel. The Kazinga Channel supports the biggest number of Hippos in the whole of Africa. You will see a diversity of wildlife like Elephants, Leopards, Lions, Buffaloes, Crocodiles as well a a variety of different bird species from Martial Eagles, African spoonbills, Cormorants, African Skimmers, Pelicans, Papyrus Gonolek, in addition to the occasional hard to pin down Shoebill Stork.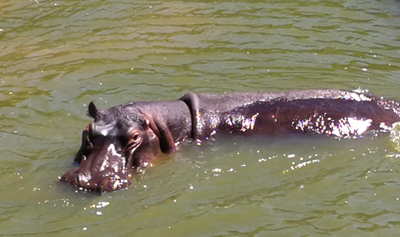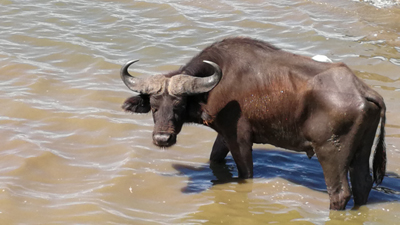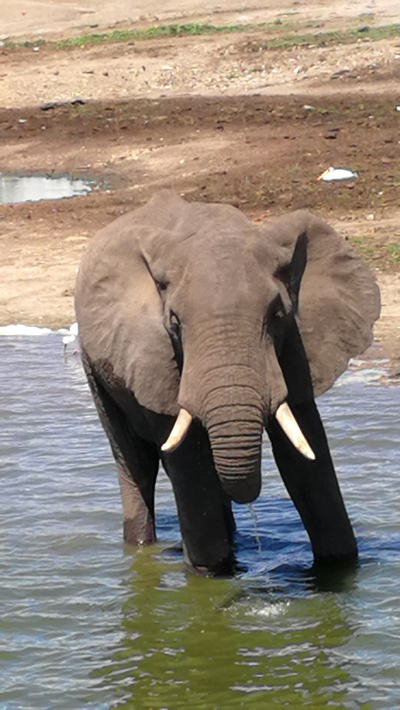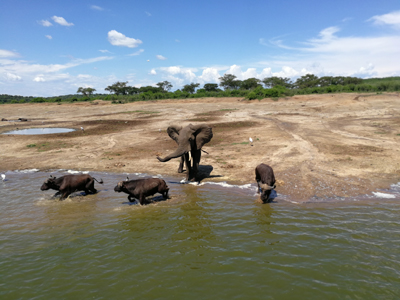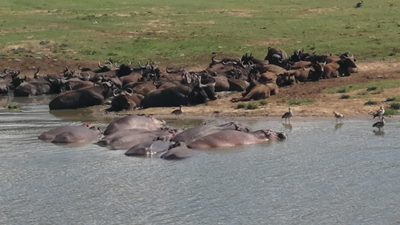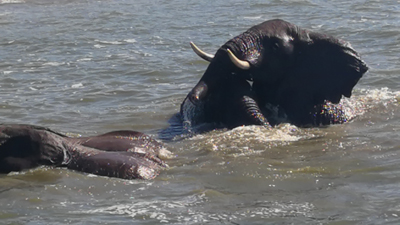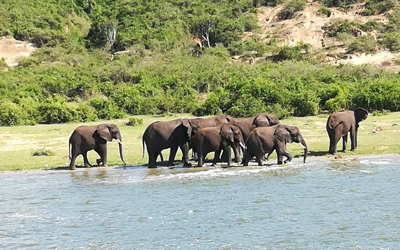 Mweya Safari Lodge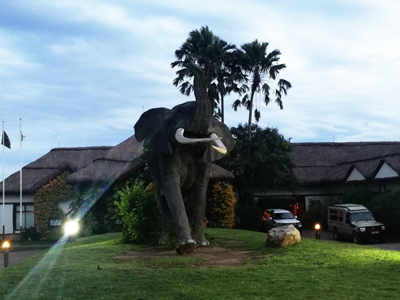 Settling in at night at the beautiful Mweya Safari Lodge situated on top of the peninsula within the heart of the Queen Elizabeth National Park.
Mweya Safari Lodge is surrounded by the magical Rwenzori Mountains aptly described as the 'Mountains of the Moon' with a panoramic view over the Kazinga Channel.
Mweya Safari Lodge is an excellent choice for rest and rejuvenation. Well-known for its luxury environment and proximity to great attractions, Mweya Safari Lodge makes it easy to enjoy the best of Queen Elizabeth National Park. Mweya Safari Hotel is a luxury hotel offering air conditioning in the rooms. The hotel features a 24 hour front desk, a concierge, and currency exchange. Plus, guests can enjoy a pool and an on-site restaurant, which have made this a popular choice among travelers visiting Queen Elizabeth National Park. For guests with a vehicle, free parking is available. The hotel also has a gym, spa and meeting rooms. The Mweya Safari Lodge offers 32 Standard Rooms, 12 Deluxe Rooms with Air-conditioning, 2 Suites.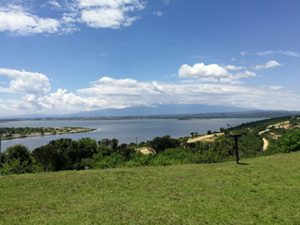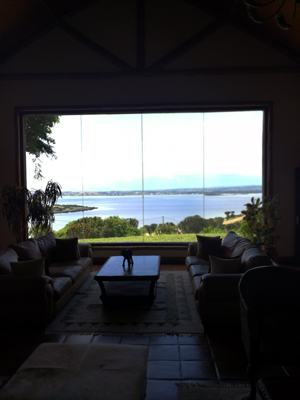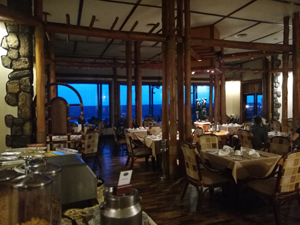 Queen Elizabeth National Park is one of the national parks in Uganda with lions.
After this exciting boat trip I am going on a game drive to view the Lions, another experience not to be missed at Queen Elizabeth National Park.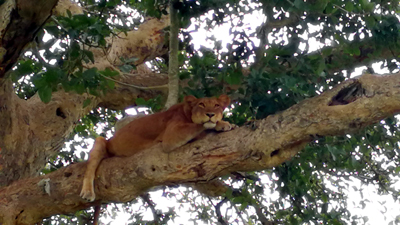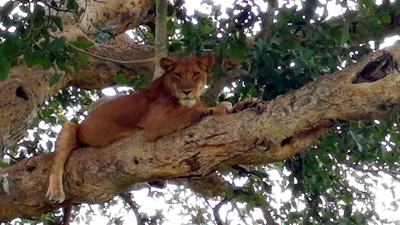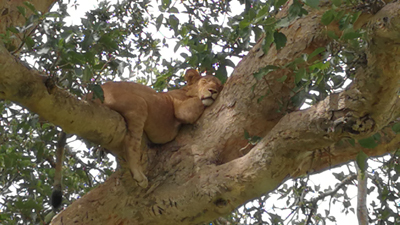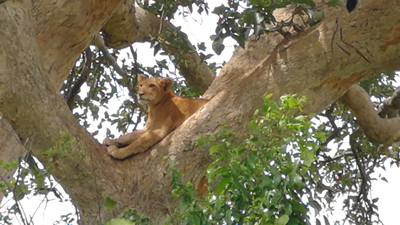 Gorilla Safari Lodge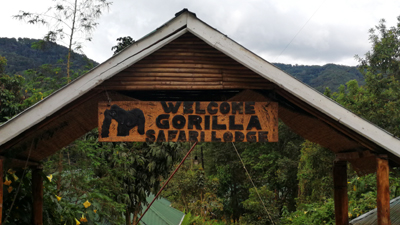 Day 5 After an exciting day of animal watching at Queen Elizabeth Park it's off to the Gorilla Safari Lodge in Bwindi, the final part of the trip.
Gorilla Safari Lodge sits comfortably at the edge of the Bwindi Impenetrable Forest National Park, a primeval forest and lush jungle region in south west Uganda. This national park is home to wild gorillas, forest elephants and 23 species of bird endemic to the area.
It's just a 5 minute drive from the lodge to the briefing point for trekking. After a long day of trekking and plugging through thick tropical vegetation, hikers can seek solace in knowing that their lodge is just a quick drive away from the entrance to the park.
Banana and guava trees cocoon the lodge, and in the distance there are views of the forest jungle with its ancient canopy of trees decorating the lofty hills. The entrance to the lodge is warm and welcoming. Bold colors from indigenous flora greet you upon arrival, leaving a lasting first impression. The atmosphere is personable, and efficient staff ensure you looked after for the duration of your stay.
The main lodge area houses the dining room, a relaxation lounge, spa treatment room and a quaint nook where the bar is situated. This remote lodge comprises 18 individual units (sleeping 45 in total) each with private wooden balconies overlooking the wilderness. 3 of these units are inter-leading rooms, making them ideal for families. Another 2 rooms are joined, but aren't inter leading.
The architecture and decor is comfortable, and all amenities from home are provided. Rooms have solar powered lighting, en-suite bathroom with hot and cold water and flush toilets. Each unit is designed to look like stand-alone log cabins that blend in with the surrounding rainforest, ensuring that the lodge does not look out of place in its wild surrounds. Cobbled paths with wooden bannister's join the well-appointed rooms, each of which have been named after individual gorillas or gorilla tribes.
Some of the units come with a deep-set stand alone bath and a fireplace.
There are plenty of activities and things to do in the area, all of which can be arranged on site for an extra fee. Guests can choose between the full day gorilla conservation experience or the popular gorilla tracking.
Either way, Gorilla Safari Lodge is the ideal hideaway to base yourself for a gorilla tracking safari in Uganda.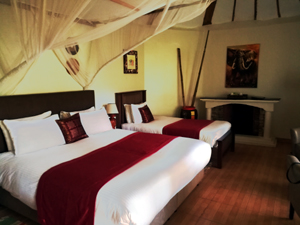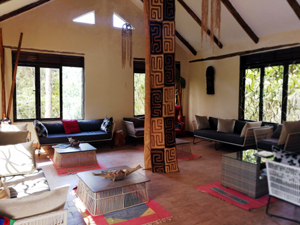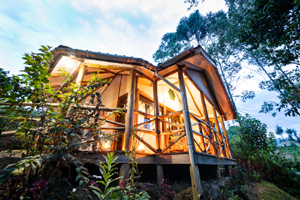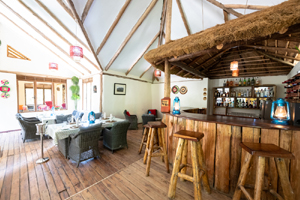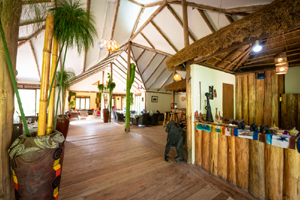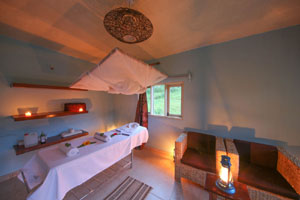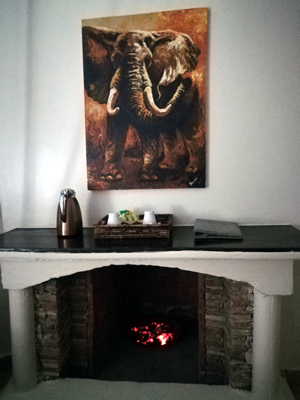 It's finally off to the highly anticipated Gorilla Habituation Tracking.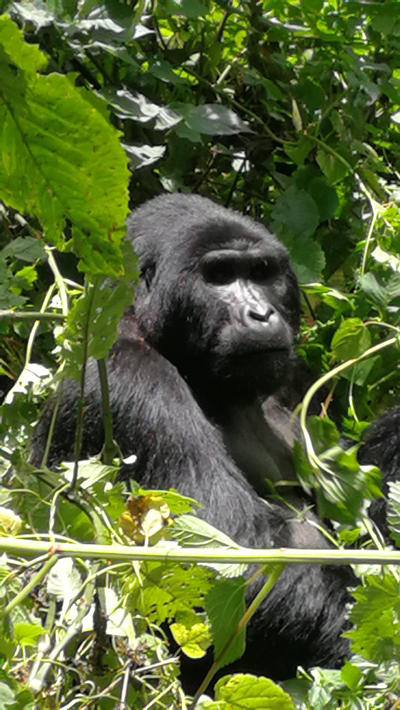 Gorilla Trekking : Take a fully guided trek into the dense rainforest and meet the gorillas. Guests will be briefed at the start of the trek, and receive a certificate at the end. Tracking gorillas can take anything from 3 hours to a full day – depending on which group you track. You will spend an hour with the gorillas.
• Gorilla Habituation : This activity is unique to the lodge and is a full day of walking. This experience includes 4 hours with a gorilla family. It is only available in Uganda (Rushaga) and provides an intimate experience observing wild gorillas together with researchers, trackers, rangers and leading conservationists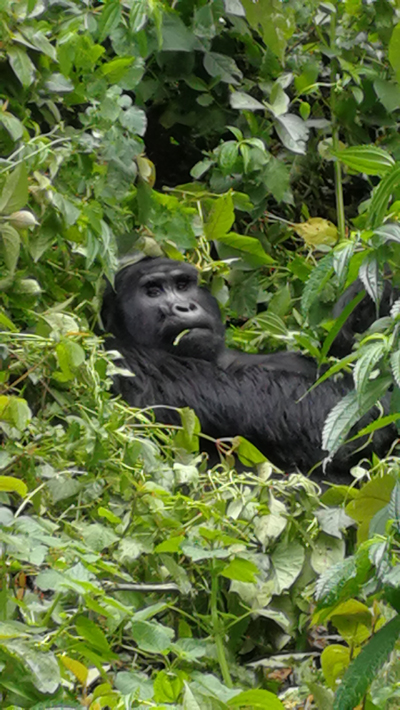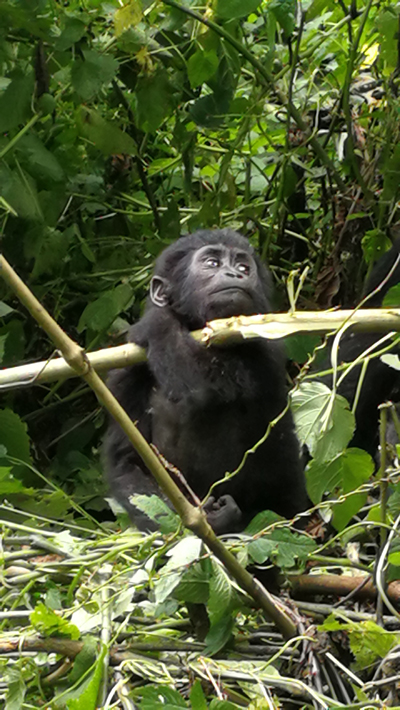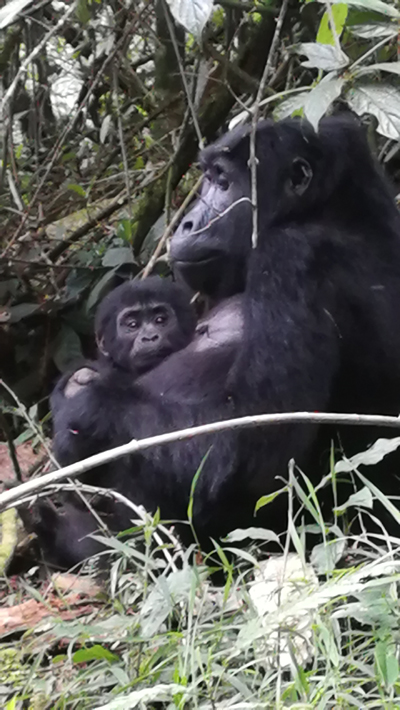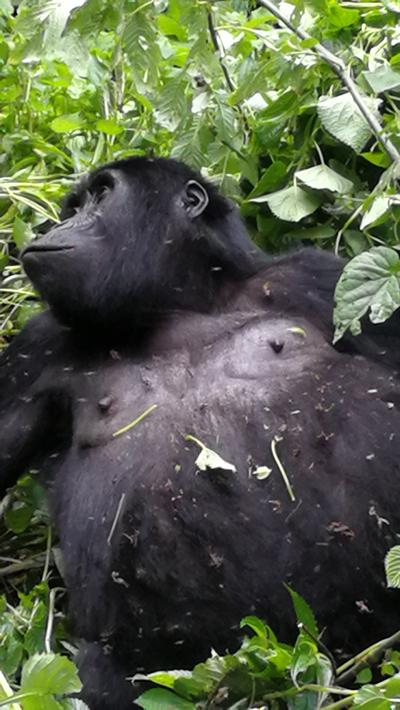 https://youtube.com/watch?v=mHoeMP5t68U%3Fcontrols%3D1%26rel%3D0%26playsinline%3D0%26modestbranding%3D0%26autoplay%3D0%26enablejsapi%3D1%26origin%3Dhttps%253A%252F%252Fentertainmenthollywood.net%26widgetid%3D3
I had an excellent and memorable trip. I highly recommend Crystal Safaris! The food was delicious lots of options to choose from. The staff was friendly at each property. All the lodges were beautiful clean and peaceful with great views. Special thanks to Barbara who handled everything so well and very professional. The whole experience was just priceless and magical. Not to forget loved the Hot Water Bottle underneath the sheets for bedtime.