Six Flags Magic Mountain Celebrates 30 Chilling Years of Fright Festwith 30 Nights of Frights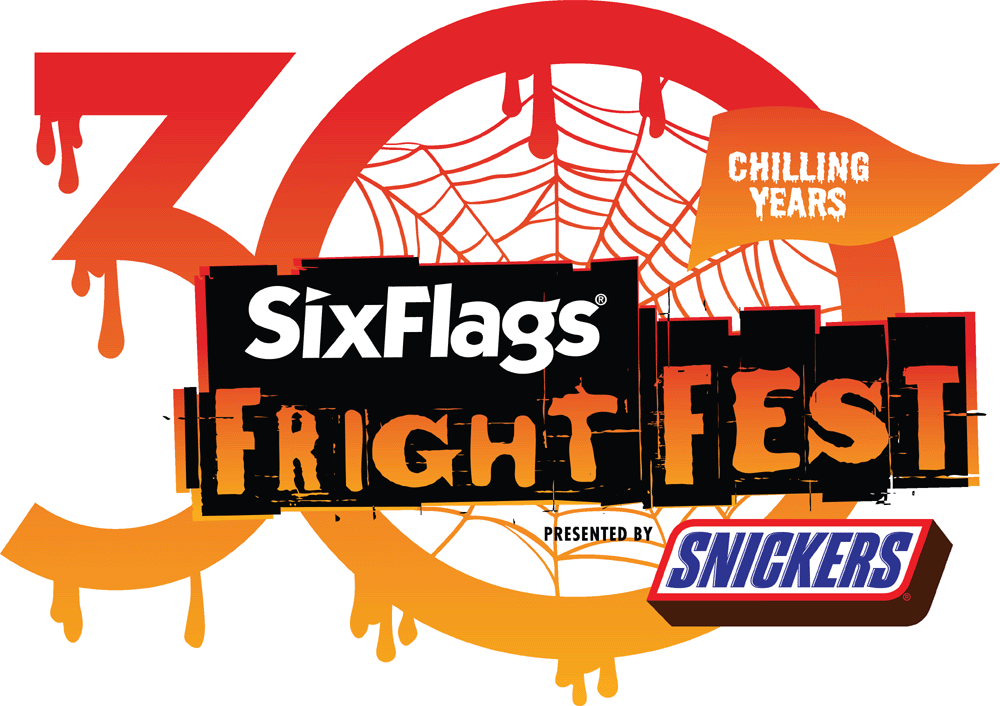 Annual Event Delivers Devious New Haunted Attractions, Spooky Entertainment and
Frightful Family Fun for All Age
Six Flags Magic Mountain, the Thrill Capital of the World, is set to make hearts race and pulses pound this Fall as the park celebrates 30 chilling years of Fright Fest. The electrifying lineup of attractions features two daunting new haunted houses taking the fear factor to new heights, the return of a fan-favorite haunted house, menacing new characters ready to send shivers down your spine, and the expansion of one of the park's most popular scare zones. With 30 nights of frights running select nights September 8 through October 31, Six Flags Magic Mountain leaves no tombstone unturned this haunt season.

Fright Fest, presented by Snickers®, unleashes a total of eight bone-chilling haunted houses that will transport guests to a world of nightmares and seven dare-to-enter scare zones with nightmarish zombies lurking around every corner. For those seeking an extra dose of terror, Six Flags Magic Mountain also adds a sinister element to some of the park's monster coasters by turning off the lights, leaving riders to face their fears in total darkness.

"We're excited to be bringing an unparalleled experience of fear and excitement to Southern California in honor of our 30th Fright Fest anniversary," said Six Flags Magic Mountain Park President Don McCoy. "We're upping the scare factor with 30 nights of frights with the addition of two new haunted mazes, eerie new ghouls and monsters, the expansion of one of the event's most popular scare zones, and so much more. Fright Fest is back and it's sure to be a party to die for!"

Highlights of the Fright Fest 30th Anniversary celebration include:
The Conjuring – Inspired by the film The Conjuring, dare to enter the secluded
farmhouse of the Perron family that has been terrorized and plagued by sinister spirits;
SAW X – Do you want to play a game? Experience the return of Jigsaw as you attempt to survive his ingenious and terrifying traps in the untold chapter of his most personal game yet, inspired by the upcoming release from Lionsgate and Twisted Pictures, SAW X;
Condemned House Party – The party lives on! Beware the souls of Sigma Phi Mu Mu trapped in this dilapidated old frat house. Back by popular demand from the fan-favorite event Scream Break; and
City Under Siege – The clowns have taken over in the expansion of the park's most popular scare zones and are loose and running rampant through the streets of DC UNIVERSE™;
Popular returning haunted houses and mazes that incorporate state-of-the-art makeup, props, and special effects, include:
Willoughby's Resurrected where evil spirits roam the once-affluent Willoughby's Family mansion;
Truth or Dare leaves guests questioning their every move, with a new array of never before-done scares and effects in a warped game of Truth or Dare. We double dare you to play;
Vault 666 Unlocked where demonic relics that are locked in a dark and sinister antique shop, cast spells and haunt those who try and steal them;
Sewer of Souls takes guests into an underground world of lost souls and terrifying tunnels where evil oozes; and
Aftermath 2: Chaos Rising is the region's largest outdoor maze, covering more than
40,000 square feet where the spirits of the dead and the near-dead inhabit a postapocalyptic city with larger-than-life props, fire, fog, and other special effects.
Additional scare zones around the park which leave guests nowhere to hide and screaming to get out include:
Devil's Triangle succumbs all passersby to the deepest, darkest depths of the ocean haunted by the many souls lost to the Devil's triangle, who prey on guests as they enter the park;
CarnivHELL lures visitors into a once-thriving circus, now taken over by a carnivorous
band of carnies. Step right up and enter if you dare;
The Deadzone unleashes a renegade group of cyberpunk zombies that feed on
unsuspecting visitors;
TERRORtory Twisted is a haven to steam-spewing mechanical beasts who relentlessly hunt down their victims;
Nightmares – A Twisted Fantasy brings your worst nightmares to life with a perverse twist on childhood favorite bedtime stories; and
Exile Hill makes guests freak out when unimaginable sinister souls appear without warning.
The spooktacular lineup of monstertainment includes:
Unleashed returns with new a new haunt as the monsters break free. Located in City Under Siege at 7:00pm nightly;
Sliders of the Night returns as the clowns of City Under Siege spark up the night in an all-out ghoulish competition of slide or die;
Invasion brings a fun new alien experience to the Full Throttle Stage with live DJs, interactive games and a colony of extraterrestrial creatures that'll haunt your dreams; and
Spirits with Spirits returns with a new home at the Full Throttle Sports Bar. Guests of age can sink their teeth in devilish treats and sweets accompanied by spirits of both natures.
Fear not, little monsters! Kids Boo Fest offers a range of frightfully fun family activities during the day on Fridays through Sundays during Fright Fest, including:
A trick-or-treat trail in Bugs Bunny World, where you can collect sweet treats and encounter friendly characters along the way;
Two new spooktacular pint-sized mazes with ghoulish fun around every corner; and
A spooky ride aboard the Whistlestop train donned with festive décor.
Fright Fest operates on 30 chilling nights including September 8-10, 15-17, 22-24, 28-30, October 1, 5-8, 12-15, 19-22, 26-29, and 31.
For more information on Six Flags Magic Mountain's Fright Fest, including tickets and haunted attractions pass details, visit our website at sixflags.com/magicmountain/events.
Knott's Scary Farm Kicks Off 50th Anniversary with New Mazes and Nostalgic Nods to Infamous Haunts of the Past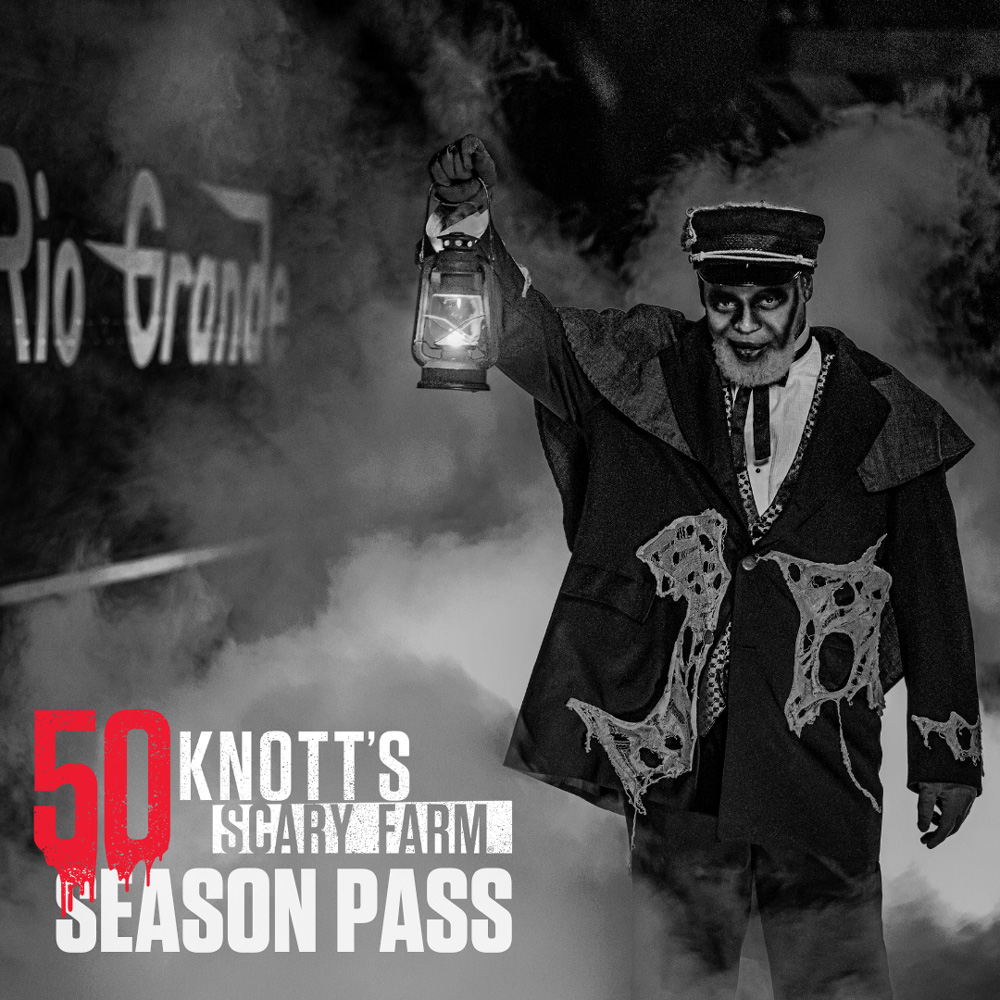 his year marks 50 years of never-ending nightmares at Knott's Scary Farm. The spine-tingling tradition is Southern California's longest-running and most haunting Halloween theme park event. Starting Monday, tickets go on sale for a frightful experience that has left no tomb unearthed, no crypt unrattled and no fear untouched. This year's lineup is a culmination of five decades of terror that no one will want to miss select nights from September 21 through October 31. For those counting, that's 29 fearful nights of horror.
This anniversary's lineup includes 10 frightening mazes, 5 sinister scare zones and 4 hair-raising shows. Guests can expect to uncover unforgettable experiences that will usher in characters from Haunt history. Those looking to unleash their inner monster at this year's event can purchase event tickets on July 24 at 10 AM.
WHEN: This year, the event returns September 21, 22, 23, 24, 28, 29, 30, October 1, 4, 5, 6, 7, 8, 11, 12, 13, 14, 15, 18, 19, 20, 21, 22, 25, 26, 27, 28, 29 and 31. Knott's Scary Farm is open 7:00 pm – 2:00 am on Fridays and Saturdays, and 7:00 pm – 1:00 am on select Wednesdays, Thursdays and Sundays.
WHERE: Scary Farm tickets go on sale July 24 at knottsscaryfarm.com
Due to the explicit and frightening nature of the event, it is not recommended for children under 13. For more information on Knott's Scary Farm, including admission, park hours, and events, visit knottsscaryfarm.com. Join the scary conversation by using #ScaryFarm on Facebook, Twitter, Instagram, and TikTok.
Halloween Horror Nights at Universal Orlando Resort and Universal Studios Hollywood Unleash More Terrifying Haunted Houses, Including "The Exorcist: Believer," Inspired by Universal Pictures' New Blumhouse and Morgan Creek Entertainment Film, "Chucky: Ultimate Kill Count" and "Universal Monsters: Unmasked"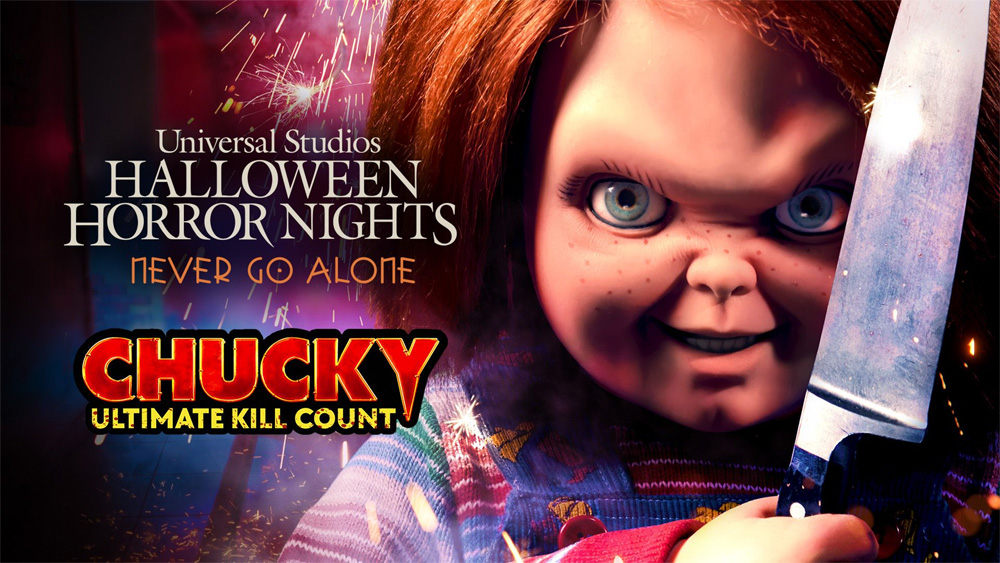 The countdown begins for Halloween Horror Nights at Universal Orlando Resort and Universal Studios Hollywood as the destinations announce additional all-new terrifying haunted houses, including "The Exorcist: Believer," inspired by the new Universal Pictures film from Blumhouse and Morgan Creek Entertainment, "Chucky: Ultimate Kill Count" based on the popular USA & SYFY series, and "Universal Monsters: Unmasked," inspired by Universal's legacy of iconic cinematic monsters.
The terror kicks off at Universal Orlando Resort on Friday, September 1 and at Universal Studios Hollywood on Thursday, September 7. Below is a sneak peek at what to expect:
The Exorcist: Believer
Inspired by Universal Pictures' terrifying new horror film from Blumhouse and Morgan Creek Entertainment (in theaters Friday, October 13), "The Exorcist: Believer" haunted house will unleash an entirely new level of terror to Halloween Horror Nights. In this new chapter, guests will be transported to a bustling street market in Haiti, where an innocent purchase of a strange folk doll with three eyes leads to the opening of a demonic portal, the awakening of sinister spirits and the subsequent disappearance of two 12-year-old girls in the U.S. The girls are found three days later with no memory of what happened to them. After the girls begin to exhibit unsettling behavior, it soon becomes clear that only an exorcism can save them – and everyone who comes in contact with them, including unwitting guests, is suddenly at risk of losing their souls.
Chucky: Ultimate Kill Count
Inspired by the hit USA & SYFY series and cult classic films, "Chucky: Ultimate Kill Count" casts this killer doll as the star of his very own haunted house for the first time. A true sadistic killer, Chucky has been mired in the agony of disrespect he feels from his peers at not being taken seriously. Thus begins his quest to turn his haunted house into a living slaughterhouse by killing every person who enters.
Universal Monsters: Unmasked
Lurking sixty feet beneath the bustling streets of the City of Lights, the dank Catacombs of Paris house a much darker secret. . . The all-new haunted house "Universal Monsters: Unmasked" takes guests down into the infamous burial grounds where every corner and crevice overflows with millions of skeletal remains and even more sinister secrets. Deep within the Catacombs, Universal's most notorious creatures – The Phantom of the Opera, The Hunchback of Notre Dame, Dr. Jekyll and his deranged alternate personality Mr. Hyde, and Dr. Jack Griffin, aka The Invisible Man – also lie in wait as they bide their time and seek vengeance against guests after the opening of the Catacombs to public visitation. These desperate and dangerous fiends have become filled with a rage toward guests navigating the twisted tunnels of their underground labyrinth home. It is here, in the darkness, where they hunt these trespassers and where the sounds of guests' screams will go unheard.
Once again, GRAMMY® Award-winning musician, SLASH, is collaborating with Universal Studios Hollywood on an original score for the west coast version of the "Universal Monsters: Unmasked" haunted house.
Halloween Horror Nights runs select nights at Universal Orlando Resort from Friday, September 1 through Saturday, November 4, and at Universal Studios Hollywood from Thursday, September 7 through Tuesday, October 31. For more information and to purchase tickets, visit www.HalloweenHorrorNights.com. Due to popular demand, event nights are expected to sell out and tickets should be purchased in advance.
HALLOWEEN HORROR NIGHTS AT UNIVERSAL ORLANDO RESORT
Universal Orlando Resort reveals the complete lineup of terrifying horrors guests will face at Halloween Horror Nights 2023, including five all-new, chilling original haunted houses and five unnerving scare zones. The world's premier Halloween event celebrates its 32nd year with a record-breaking 48 nights of immersing guests into the eeriest of experiences that could only be endured at Halloween Horror Nights – including a circus that's spiraled into chaos, the long-awaited emergence of Halloween Horror Nights legend, Dr. Oddfellow, and a dark, resurrected story that delves into the haunting history of Universal attractions past. In the midst of the screams, guests can experience a disturbingly entertaining live show, an all-new Tribute Store, take a bite out of the horror with scary-good food and beverage, and so much more.
Here's a glimpse of what's lingering in the fog at Universal Orlando's Halloween Horror Nights 2023:
ALL-NEW ORIGINAL HAUNTED HOUSES
Five formidable stories await to unfold in original haunted houses where willing guests will succumb to:
A demented, late-night circus led by an evil ringmaster and notorious icon looking for human souls to fuel his dark intentions in "Dr. Oddfellow: Twisted Origins"
A horrific twist to a frightening, yet familiar tale and sinister battle between Fire and Ice in "Dueling Dragons: Choose Thy Fate"
Blood-soaked campgrounds deep in the trenches of mountains where vicious, bloodthirsty monsters have returned with a vengeance in "YETI: Campground Kills"
Selling their souls for fame in "The Darkest Deal" where they quickly learn a deal can be more than they bargained for
A colonial cult looking to slaughter those who dare refuse to worship the Bloodmoon in "Bloodmoon: Dark Offerings"
FIVE UNNERVING SCARE ZONES
As the sun sets on Universal Studios Florida and ominous clouds fill the sky, Dr. Oddfellow steps out of Halloween Horror Nights past to fill the streets with hordes of taunting scareactors in five all-new scare zones where guests will:
Come face to face with the devious legend who is promising immortality for those who dare to enter "Dr. Oddfellow's Collection of Horror"
Cower in fear as the signs of the zodiac come to life in "Dark Zodiac" where Dr. Oddfellow uses his power to transform the zodiac signs into horrifying horoscope creatures
Venture into the "Jungle of Doom: Expedition Horror" where Dr. Oddfellow's twisted and bizarre experiments combine elements of nature and animals to create vicious jungle creatures looking to satisfy their cravings
Attend a music festival crashed by bloodthirsty vampires let loose by Dr. Oddfellow in "Vamp '69: Summer of Blood"
Stumble upon Dr. Oddfellow's crates and cages that once housed monsters of all kinds who have escaped in pursuit of chaos in "Shipyard 32: Horrors Unhinged"
NEW SPINE-CHILLING EXPERIENCES AND KILLER FOOD
Guests can enjoy the all-new disturbingly entertaining show, "Nightmare Fuel Revenge Dream," that features a new dreamer confronting the creature that's been turning her dreams into nightmares.
While shopping the latest Halloween Horror Nights merchandise and treats in an all-new Tribute Store, guests can enter a mysterious NYC Comic Book Shop and experience the "Tribute to Terror" by stepping into the pages of this original, terrifying, horror comic book.
Guests can enjoy a drink at the Red Coconut Club as it will once again transform to the Dead Coconut Club donning a new theme and menu.
When guests want to take a bite out of the horror, they can enjoy a monstrous menu of all-new food & beverage items, including Bloody Campground Poutine, El Pastor Torta and Sour Apple Pie Funnel Fries, in addition to returning fan-favorites like Pizza Fries.
New this year, Peacock's Halloween Horror Bar will feature themed libations within an ominous nightclub vibe, photo opportunities, and more.
For those dying to experience this year's "killer" food & beverage before the event even opens, Taste of Terror will offer guests an exclusive preview of select items that will be featured at Halloween Horror Nights select nights from August 10 through August 26. For more information and to purchase tickets to Taste of Terror, click here.
EXCLUSIVE HALLOWEEN EXPERIENCES AT UNIVERSAL ORLANDO'S HOTELS
Universal Orlando hotel guests can stay near the fear and receive exclusive benefits, including Early Park Admission to the theme parks during the day and access to priority event entrance to Halloween Horror Nights at night as well as complimentary transportation to the theme parks and Universal CityWalk.
Vacation packages are available that include one-night admission to the event, Universal hotel accommodations and admission to all three of Universal Orlando's thrilling theme parks. And for the first time ever, the fog has spread to all eight of Universal Orlando's hotels with exclusive activations and experiences for hotel guests inspired by this year's event, including Universal's Cabana Bay Beach Resort's exclusive "Chucky's Twisted Playground" photo illusion experience based on the USA and SYFY series, plus, the Universal Monsters Gallery of Legends lobby photo opportunities in all other hotel lobbies and more.
Additional vacation packages and discounts on hotel stays are available for the ultimate fall getaway. Guests can also purchase single-night tickets or the popular Frequent Fear and Rush of Fear Passes, plus event upgrades like Express Pass, R.I.P. Tour and the daytime Behind the Screams: Unmasking the Horror Tour. Click here for more information and to book a fall getaway.